Craig Voligny
As an adolescent I became aware of the expectations put on my male existence, from family, peers and popular culture.  Boys would be men, and that meant in my situation I was to grow up, be physically strong, stoic, and … Read More
By Maayan / January 6, 2009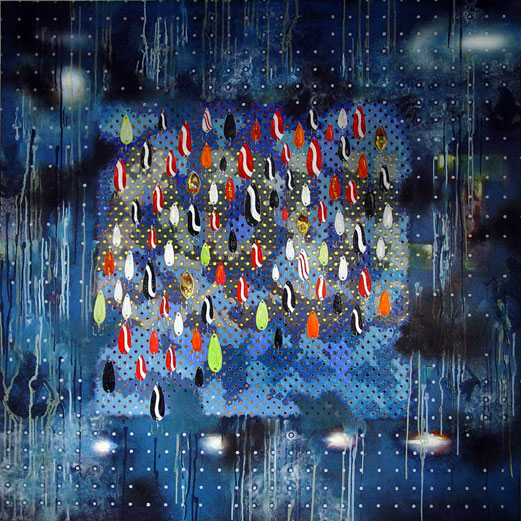 As an adolescent I became aware of the expectations put on my male existence, from family, peers and popular culture.  Boys would be men, and that meant in my situation I was to grow up, be physically strong, stoic, and self-reliant.  Fifteen years since my inception into official manhood, I reflect on what this early training meant to instill in me; to what use in this post/modern, postindustrial society.  I make art which explores this theme, the American masculine ideal as a construct of paradoxical ideas of history and popular culture.
In my work I incorporate imagery which I was trained to give male associations; fishing lures, bullets, guns, and erotic imagery, etc.  I am interested in their ironic beauty and personal associated memories; what they represent, and how they fit in the historical ideal of manhood.  To question this, I often utilize animal symbolism, specifically the prey/predatory relationship to illustrate the idea of the male as powerful and weak, aggressive yet vulnerable.
Through collage, sense layering, and strong contrast I assemble selected old photographs, symbolic animal imagery and objects of loaded meaning.  By creating layers of pattern as a metaphor of emotional and psychological fronts, I conceal key content.  Through this approach, I intend to mask and obscure the learnt and instinctual emotions, desires and thoughts which have subjugated and conformed male individuality and identity.  Many of these ideals are rooted in a specific historical accumulation of beliefs, while others are simply instinctual. 
Within myself, a nihilist agression and romantic acceptance of these ideas exist as a result of the tension between my personal sense of moral, biological and intellectual bias.  As an indivisual, I question which I believe and reject, and thus react as an artist.