Diet Riot: Vending Machines Can Save Your Diet
Admit it: those pre-peeled baby carrots you begrudgingly bring to work every day are inevitably trumped by the irresistible seductions of a vending machine stocked with salty, cheesy, chocolaty evils. Lately, though, a new breeze is blowing through the vending … Read More
By Null / January 14, 2008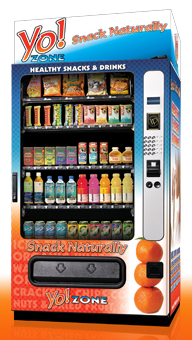 Admit it: those pre-peeled baby carrots you begrudgingly bring to work every day are inevitably trumped by the irresistible seductions of a vending machine stocked with salty, cheesy, chocolaty evils. Lately, though, a new breeze is blowing through the vending industry — and it's not just flatulence! (Har).
A handful of companies are beginning to offer those with special dietary needs better options, from kosher and organic to vegetarian and "allergy-friendly."
Kosher Vending Industries is making sure that Jews on the run can get a kashrut snack where options are scarce. Organic Vending only stocks items that are free of artificial flavor, artificial color, preservatives, and trans fats, and a large majority of their products meet the USDA standard for Organics. YoNaturals Inc. stocks their vending machines with a wide range of products, from fresh juices to organic pita chips.