Holly Wong
My artistic intention is to bear witness to suffering, in an effort to transform society by serving as a mirror. My work concerns how war impacts civilian populations, especially women and children, and I often depict the effects of war, … Read More
By Holly Wong / October 24, 2008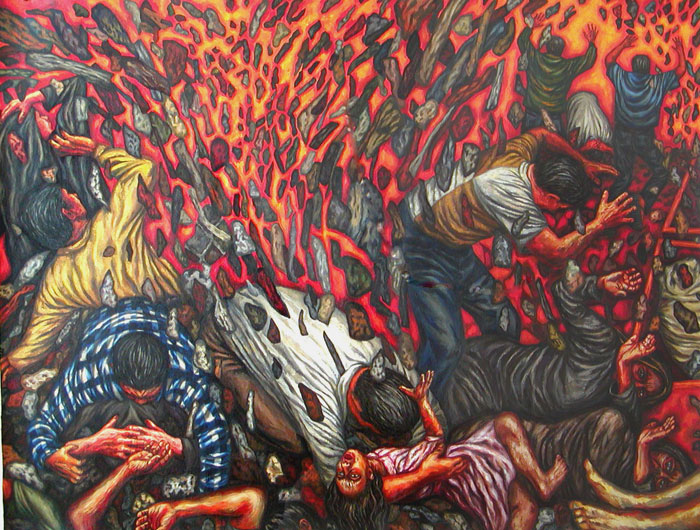 My artistic intention is to bear witness to suffering, in an effort to transform society by serving as a mirror. My work concerns how war impacts civilian populations, especially women and children, and I often depict the effects of war, occupation and unjust labor conditions upon the most vulnerable members of our society. Through acrylic and oil stick painting, as well as drawing, I explore these subjects using figurative motifs.
For the past decade, I have worked with topics of social engagement because I feel a deep empathy for those who are oppressed, unheard, and unseen in our society. I feel that as an artist, I can use art-making as a visual language to inspire people to feel deeply for those in their community, or in the world beyond. Essentially, I believe that imagining how another may be experiencing pain, is the first step to forge change. Since corporate media isolates people and masks an authentic response to our environment, art in its best moment, allows people to be more humane and fully aware.
Since I graduated from the San Francisco Art Institute with an MFA in 1995, I have worked with non-profit organizations and community-based venues to speak about justice and consciousness raising through my work. I consider myself a "community artist" in the sense that my work generally serves to educate, to motivate a broad audience and to inspire social change. I see my work as a cultural tool in order to help make more visceral the social struggles hidden from view. Part of my goal is for all people to experience my work, without language, financial position, or cultural background acting as barriers.