In Praise of the Hubby Bubbly
In 2003, Mayor Bloomberg banned smoking in New York City bars, and, inadvertently, started a rose scented mania. Hookah bars, since they made most of their money off of tobacco sales, were permitted to allow smoking on premises. And they … Read More
By Molly Crabapple / March 14, 2007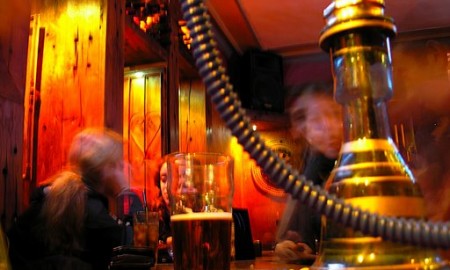 Jewcy loves trees! Please don't print!
In 2003, Mayor Bloomberg banned smoking in New York City bars, and, inadvertently, started a rose scented mania. Hookah bars, since they made most of their money off of tobacco sales, were permitted to allow smoking on premises. And they did! Two years after September 11th, the Arab-owned shisha parlors were booming. They lined Alphabet City, smelling like incense and rose petals and exoticism. After the smoking ban, the hookah bars were packed every night with bridge and tunnelers. There were belly dancers in the bars, and scare articles in the paper, warning that heavens- hookah bars were right next to NYU.
I was living on 10th street then, studying Arabic at the New School. Hanging out at the hookah bars was a great way to practice. I'd spend hours nursing a pipe and drinking milky sahlab, fantasizing that I was just like Richard Burton.
Tobocco is a drug, of course, but hookah takes it's drugginess to a new level. It gives it a ritualism, a set of paraphernalia that's expensive and alien. Making a good hookah is a skill. My coauthor John puts bourbon, ice, and milk in the base, to get a thicker smoke. Taking a drag from the pipe causes water to burble up. Thus the English name- hubbly bubbly.
It's been a long day, and I'm writing this article under the influence of lemon scented tobacco. Plumes of it. Billows.
The NYC hookah bars remain packed, with the prices inching up each month. Nonetheless, I'd recommend trying them. If you're going to sabotage your lungs, hookahs are a way to do it with near alchemical refinement.