Israel No Love
January 12, 2009 Adjami, Jaffa – candlelit vigil for Gaza At Jamilah's house Al Jazeera is on the TV. Al Jazeera shows what bombs do. Limbs come off. Eyes melt shut. Dead children have … Read More
By leila segal / April 17, 2009
January 12, 2009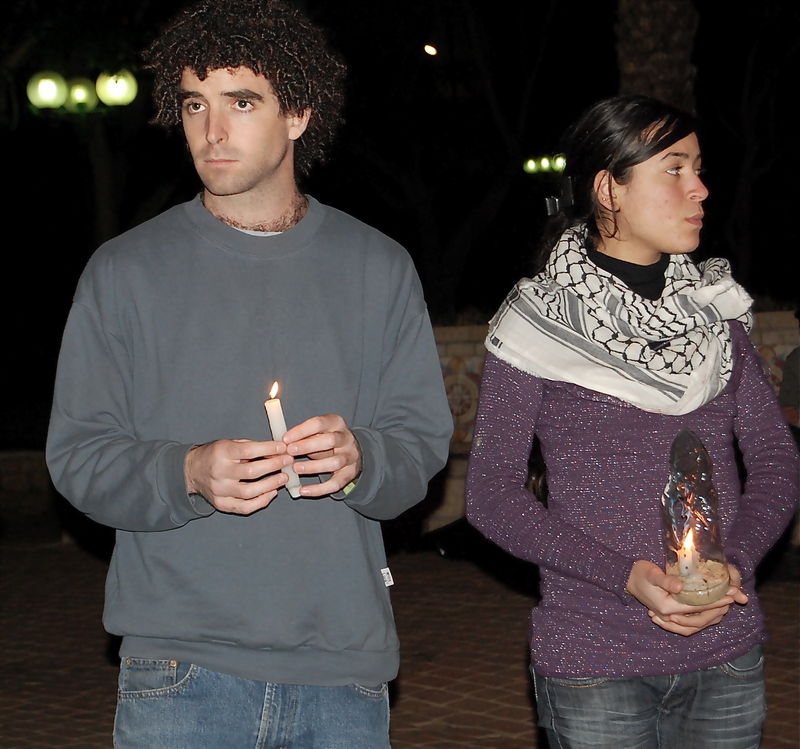 Adjami, Jaffa – candlelit vigil for Gaza
At Jamilah's house Al Jazeera is on the TV. Al Jazeera shows what bombs do. Limbs come off. Eyes melt shut. Dead children have white faces from the dust. Jamilah's mother puts her head in her hands and cries.
Jamilah reports that a colleague at work (they're all Jewish except her) demanded to know today, are you for or against Hamas? 
'Why should I tell you that?' she says to her colleague. But he won't let up, so she tells him, 'look, it's not like you see on TV – you know only half the story. We see the whole picture.'
'We have to do it,' the guy says. 'We don't kill children on purpose.'
'Did I ever ask to talk politics with you?' she says.
'You're a traitor,' he replies.
The manager calls Jamilah in and Jamilah's shouting, she can't stop shouting: 'Look what he's doing to me!'
'It's not the case,' the manager says. 'You provoked him. That's what he told me.'
Jamilah's big-boned brother is lying on the sofa. He turns to me and says: 'Israel – no good, no bad … Israel – no love.'