Jewcy Gets Results: Israel-Diaspora Relations Edition
Less than a month ago, Eli Valley's instant classic "Israel Man and Diaspora Boy" made nonsense of "Negation of the Diaspora" philosophy. Somebody in the Israeli government must be reading, because lo and behold: A new government strategy to redefine … Read More
By Daniel Koffler / June 5, 2008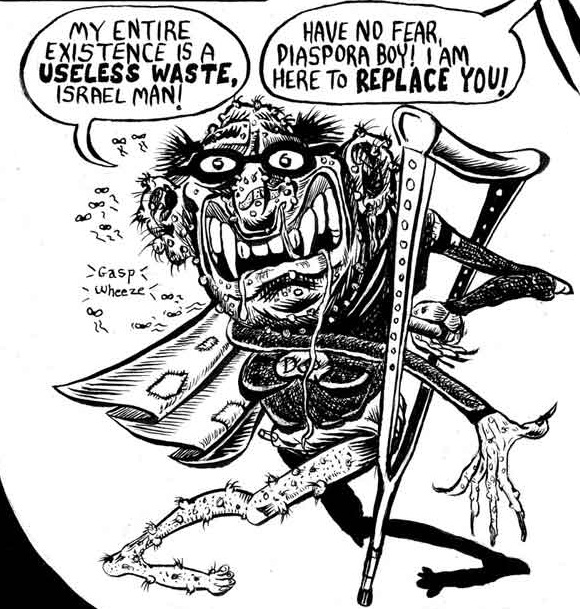 Less than a month ago, Eli Valley's instant classic "Israel Man and Diaspora Boy" made nonsense of "Negation of the Diaspora" philosophy. Somebody in the Israeli government must be reading, because lo and behold:
A new government strategy to redefine ties with the Diaspora to be "less patronizing and more humble" will be unveiled on June 22…

While "aliya is an important Zionist goal that remains important in our value system," [cabinet member Ovad] Yehezkel said, "we have to move away from a dynamic based on money and aliya. We have to add more values, to establish cooperation. Israel has to take responsibility for Diaspora issues as well, such as Jewish identity, education and continuity."…

Israel stood at "a complex crossroads," Yehezkel said. If it failed to "completely redefine" its relationship with the Diaspora, "we will find ourselves, God forbid, dividing again into Judah and Israel. There will be a Jew of Israel and a Jew of the Diaspora, and they will be more different than they are alike."

The new relationship, Yehezkel said, must have "a whole different purpose. We have to change the language we use when speaking to the Diaspora and even the tools with which we communicate."
QED.