Jewcy Recognizes Kosovo Independence
Last week, nearly ten years after NATO put a stop to Serbia's ethnic cleansing of the majority Albanian Muslim population of Kosovo and ended the de facto control of Kosovo by the government of Yugoslavia, Kosovo declared its formal independence. … Read More
By Daniel Koffler / February 25, 2008
Last week, nearly ten years after NATO put a stop to Serbia's ethnic cleansing of the majority Albanian Muslim population of Kosovo and ended the de facto control of Kosovo by the government of Yugoslavia, Kosovo declared its formal independence. So far, seventeen other nations, including the strategic heavyweights like the US, the UK, Germany, and France have recognized Kosovo as an independent state. Jewcy hereby adds its imprimatur to that list.
Not counting Serbia or Russia, whose motives are fairly transparent, most other countries have demurred on recognition of Kosovo. Israel, for example, objects to Kosovo independence "in principle," most likely out of fear that ratifying such a process could eventually lead to a unilateral Palestinian declaration of independence.
Therein lies the catch for the rest of the world as well. Regional and ethnic secessionist movements trade on a wide variety of agendas, some benign, some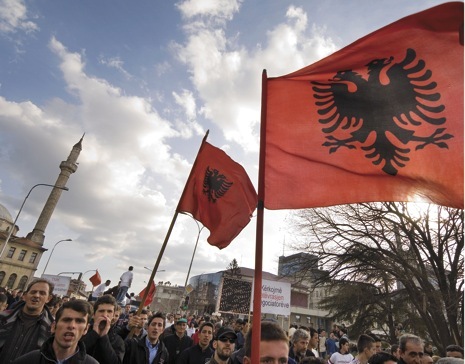 decidedly malign. Thus the United States, Kosovo's most prominent backer, takes the official line that Kosovo independence owes its legitimacy to the unique circumstances of the Milosevic campaign of mass-murder and deportation, and does not establish a precedent in international law. Why? In the immediate-term, Russia is already beginning to step up its backing of pro-Putin separatist causes in Georgia, and perhaps in Transnistria too. (The latter is a de facto autonomous region of eastern Moldova, itself originally a chunk of Bessarabia carved out of Romania in the Molotov-Ribbentrop pact, and permanently separated from Romania, along with more territory, after the Second World War.)
These difficulties notwithstanding (and others, like the burning of the US embassy in Belgrade), Jewcy welcomes Kosovo to the community of free and independent nations. In that spirit, we present Stephen Schwartz on the Serbian lies regarding Kosovo, Adam LeBor on the strategic opportunity Kosovo independence offers to Israel, and Steven Rybicki on the strategic challenges of Kosovo's independence.