The Jewish Mother's Guide to Style: Craque
Welcome to Jewcy's new weekly style feature – The Jewish Mother's Guide to Style. This guide should serve as a shopping directory for all things fashion, beauty, home, food and more for the average, style-conscious (Jewish) woman (and mother). Fear … Read More
By Carrie Goldberg / May 25, 2010
Welcome to Jewcy's new weekly style feature – The Jewish Mother's Guide to Style. This guide should serve as a shopping directory for all things fashion, beauty, home, food and more for the average, style-conscious (Jewish) woman (and mother). Fear not that such a guide is not for you if you find yourself twenty-something and single with no children of your own! Considering that Jewish ladies begin pondering procreation and marriage in their teens, this guide will cater to the interests of women of a wide age range. If you are between the ages of twenty and ninety and take interest in infusing a little bit of (affordable) luxury into your life – put down this month's issue of Lucky Magazine, this is the shopping guide for you!
A stylish Jewish Mother always possesses the ability to throw together a raging Bar Mitzvah, a killer Bris or a fabulous Kiddush at the drop of a hat – and with that responsibility comes a strong attention to themed, customized and at times, personalized detail. Nothing says "I had a blasty blast at Sarah's Bat Mitzvah!" like having that classy one-liner printed on Sarah-themed treats. Enter: Craque, or as founder and confectioner Freida Orange has dubbed her business for her family-friendly clients, Snaque. Handmade and designed in her Brooklyn kitchen with labels printed by her graphic-designer sister, Freida, who works in the film industry by day and as a confectiontress by night, created Craque, a witty, addictive and undeniably delicious candy business. With options for every event from a Shabbat meal to a Passover Seder (with confections like dark chocolate covered orange-ginger matzah Craque) these sweets are enough to turn anyone, Jew or Gentile, into a serious Craquepot.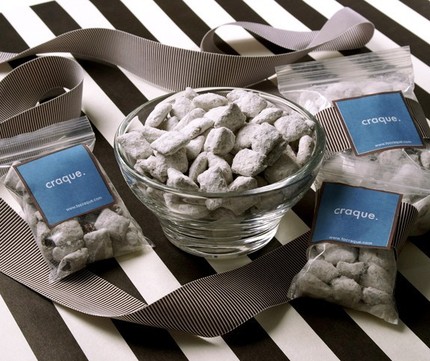 If you're an edgy mama, choose Craque for your next occasion. Conveniently packed in perfectly sketchy Ziploc bags and as addictive as well…crack, these noshy bits are sure to be a conversation starter at your next New Years event, Birthday Party or low-key L'Chaim. If you find yourself entertaining families and teens at your child's Bar-Mitzvah or celebrating anything from a birth to an anniversary – hit up Snaque, or Craque gone politically correct – your censored yet equally tasty alternative. With treats priced at as little as five dollars, Freida's got you covered – whether you are entertaining friends at a get-together where the wittiness of such a treat would be much appreciated or at a PTA meeting where all anyone wants is a Snaque. 
*Indulge in Craque and Snaque products by visiting Freida's site at FoCraque.com