The Jewish Mother's Guide to Style: Uniqlo's Pegtop Cropped Trousers
Here's a classic Manhattan love story for all of you Danielle Steele lovers: Fashion writer/stylist working on Memorial Day weekend in the blistering heat meets pant at the most romantic spot in lower Manhattan: Uniqlo. If it is possible to fall … Read More
By Carrie Goldberg / June 3, 2010
Here's a classic Manhattan love story for all of you Danielle Steele lovers: Fashion writer/stylist working on Memorial Day weekend in the blistering heat meets pant at the most romantic spot in lower Manhattan: Uniqlo. If it is possible to fall for a pair of pants, I think I have done it successfully. Things are getting serious, and after only a day of owning them, I think I'm in love.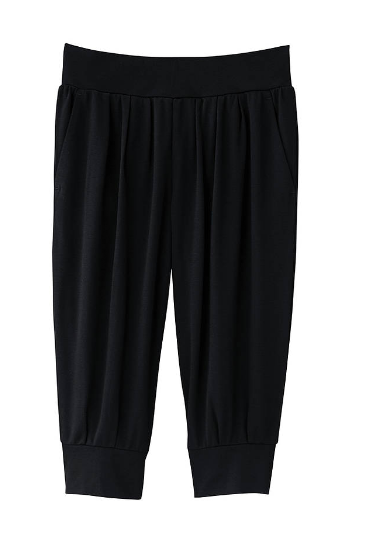 Perfect for a mother, daughter, single gal and working woman, these pants are a lifesaver and priced at a point any Jewish woman, young or old, would approve of. At a whopping $19.50 (yes, you can read and are not crazy, these puppies are under twenty bucks!) and available in a variety of perfect neutrals, there is really no place beyond a formal affair that these pants could not make a surefire style statement. They might feel comfortable enough for your morning yoga, but sporting them to an interview or a meeting with a great pair of heels and a billowy top tucked into their wide banded waist is far more fun. While I have been known to sport gigantic, linen balloon harem pants straight from Cambodian flea markets, these are by far a slimmer-cut, more accessible option for the everyday woman. Made in a thin cotton, short enough for summer but long enough for the office and the added bonus of pockets for anything from a lipgloss to a pacifier, I am having trouble finding a flaw in these oh-so-cheap basics. Pick them up in black for the sophistication of a trouser or own them in the cloudy grey to infuse an eastern flair to your downtown look. Better yet, with each pair costing under twenty dollars, own them in every color! Although my bond with these new bottoms is getting intense and passionate, this relationship is one where I encourage you to steal my boyfriend.
Uniqlo is located in SoHo at 546 Broadway, New York, NY 10012 (917.237.8811)
or you can find them online at Uniqlo.com.