Martyrdom in Westwood
For you East Coasters who can't see past the Appalachians, all L.A. was abuzz this weekend with the story of Mostafa Tabatabainejad, a student who was tasered again and again and again by police at UCLA's Powell Library last week. … Read More
By Joey Kurtzman / November 20, 2006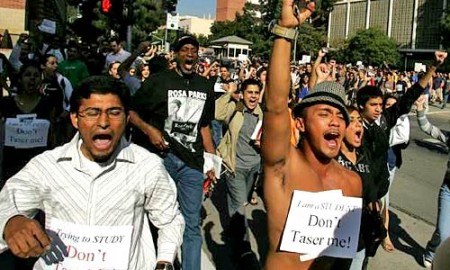 Jewcy loves trees! Please don't print!
For you East Coasters who can't see past the Appalachians, all L.A. was abuzz this weekend with the story of Mostafa Tabatabainejad, a student who was tasered again and again and again by police at UCLA's Powell Library last week. Tabatabainejad had refused to show his ID, as students in the library are required to do after 11 pm, and then refused to leave the library when police asked him to do so. The police then tasered the shit out of him.
A bystander recorded it all with his phone, and uploaded it to Youtube. It's pretty brutal. The video is inline at the bottom of this post.
It's a fantastic demonstration of the power of web 2.0-enhanced citizen journalism. In 1994 it seemed cosmically coincidental that, just as LAPD officers went buckwild on Rodney King, there happened to be a guy on a nearby balcony, video camera at hand, ready to bring the whole thing to public attention. Today, it's only surprising that the UCPD officers tasering Tabatabainejad don't seem conscious of the near certainty that they're being recorded by one digital gadget or another, and that it'll end up on the internet.
Still, the blogs are getting rather ahead of themselves on this one. IronlionOROKU expresses the typical sentiments:
They stopped him because he was in the library after 11 and they randomly do on the spot ID checks…Racist pig police.
First of all, Powell library does not do "random spot checks"…my recollection is (and my UCLA double-graduate lady partner confirms) that everyone who enters the library after 11 is asked to show ID.
Anyway, as Jewcy's ambassador to Tehrangeles, it's incumbent upon me to point out the absurdity of the argument that Tabatabainejad was "singled out because of his Middle Eastern appearance," as his lawyer puts it and as bloggers enthusiastically affirm. In West Los Angeles we're blessed to play host to the world's greatest population of exiles from the ayatollahs' Iran. Here, Jews, Muslims, and Parsis meld into a single idyllic Iranian-American community. It's one of the largest ethnic populations in West L.A., and, I suspect, the largest concentration of Iranians outside Iran. So the idea that Tabatabainejad could have been "singled out" for being an Iranian in Westwood is prima facie ludicrous.
Which of course doesn't make the brutality of the tasering any more acceptable.
Finally, one delicious aspect of the whole affair that has been mentioned in the MSM, but ignored by bloggers. Before Tabatabainejad had been tasered, while he was still just a bleary-eyed, midterms-addled student who presumably had forgotten his ID in his room and wigged out because he didn't want to go back and get it,
[He]…went limp while they were escorting him out [of the library] and urged other library patrons to join his resistance. Mavrick Goodrich, a chemical engineering major who observed the incident, said Tabatabainejad shouted, "Am I the only martyr?" (LA Times)
Our latest shaheed! The tasering was brutal, but Tabatabainejad's refusal to get his ID was hardly a martyrdom-worthy cause. Jewcy will soon publish an article about "Jewcy Radicals" in which we argue that the term "radicalism" has been devalued. Sounds like it's time to start working on our article about Jewcy Martyrdom…