McCain On Iran: Lying Through His Teeth
One more thing about Jeffrey Goldberg's interview with John McCain: It was an object lesson in how completely John McCain's position on Iran depends on blatantly lying. First and foremost, there is McCain's fixation on Mahmoud Ahmadinejad. Ahmadinejad holds no … Read More
By Daniel Koffler / June 2, 2008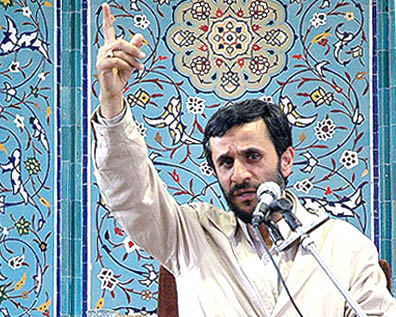 One more thing about Jeffrey Goldberg's interview with John McCain: It was an object lesson in how completely John McCain's position on Iran depends on blatantly lying. First and foremost, there is McCain's fixation on Mahmoud Ahmadinejad. Ahmadinejad holds no power and has no influence in formulating policy except at the discretion of Supreme Leader Ali Khamenei; and since Khamenei and the clerical leadership detests Ahmadinejad, he in fact holds no power and has no influence in shaping Iranian policy in any respect relevant to American policy. McCain had no excuse for not knowing that before Joe Klein confronted him with the facts two weeks ago, and he certainly has no excuse for repeating the lie after he has been publicly corrected. Yet there he went, presenting a case against diplomatic engagement with Iran that rests on the personal odiousness of Mahmoud Ahmadinejad.
What McCain has, in lieu of an excuse for continuing to lie about Ahmadinejad's importance, is a tactical rationale for doing so, namely that Ahmadinejad is a loon who says frightening things. (Indeed, he has said so many loony, frightening things that one would think McCain wouldn't have to resort to lying about what Ahmadinejad has said.) The evident goal is to scare people into voting for him by conning them into believing that Iran, like Nazi Germany and unlike any other foreign adversary of the United States in its 230 year history, is governed by an ideology immune to rational deterrence.
Note that even if that were true, what made Nazi Germany a threat that had to be defeated by war was the combination of its ideology and its possession of the most powerful war machine in human history up to that point. Hence McCain also lies endlessly about Iran's capacities, breezily mentioning to Goldberg that Iran, a nation without any nuclear weapons, existentially threatens Israel, a nation with a large nuclear arsenal. He lies about the scale of the Iranian threat relative to the Soviet Union, augments that lie by lying about his opponent's uncontroversially true observation that there is no reason for a national panic attack over Iran, and bolsters his case for a national panic attack by reference to his distinct lies about Ahmadinejad and his (non-)role in formulating Iranian policy. What's so pitiful about this mendacity is that Iran really does pose a major national security and foreign policy challenge — not every threat has to be existential to count as a threat! — which McCain's fabulism obscures.
Just as it obscures the tremendous opportunity the next president may have in light of Khamenei and the clerics' decision to geld Ahmadinejad and elevate his rival, Ali Larijani, as well as the general affection of the Iranian people for the United States (but wariness about blowhards threatening war). If he doesn't understand Iranian politics and can't be bothered to educate himself, the least McCain could do, for the sake of his own credibility, is quit trying to frame the election as a contest between experience and naivete.