My Day as a White Guy in Prison
Michael Rosen is the author of What Else But Home: Seven Boys and an American Journey Between the Projects and the Penthouse. He is guest-blogging this week on Jewcy, and this is his first post. I was in prison. … Read More
By Michael Rosen / October 5, 2009
Michael Rosen is the author of What Else But Home: Seven Boys and an American Journey Between the Projects and the Penthouse. He is guest-blogging this week on Jewcy, and this is his first post.
I was in prison. Fifty men behind a too long series of steel doors, unbreakable windows, concrete corridors, guard stations, the immoral glare of florescent light.
The guys were all Latino and Black, a very few Whites, rainbowed like my seven sons. My wife and I raised two Puerto Rican, two Dominican, one Black and two White boys. Our lighter brown skinned kids are Catholic, our dark brown one is Protestant and our light skinned sons are Jews, like us. Only the last two are "really" ours, sons by law to my wife and I. What does "real" mean, however, when it comes to family? The other five, the "bigger boys" as we still call them though they're now twenty-three and twenty-four years old, came to us from need. From the mystery and grace of G-d in the swing of a young boy's bat towards a baseball on a blacktop field. I don't believe in G-d, but want to in a world of sanctity.
The guards were enormous. They were mostly people of color. I'd been brought by two City Youth Now couselors, and we were with three or four English teachers, all colorless like me -"White niggas," my sons call us. I'd been invited as a "guest author" for two classes in Juvenile Hall in San Francisco, but it was basically jail. The boys had been incarcerated for an average of two, perhaps two and a half years. As adults, statistics say 40% will end up in jail again and 60% will be ongoingly "dependent on [the] system" (from City Youth Now, the people who brought me to "juvie hall"), including homeless, on assistance and etc. Nearly 50% will never finish high school and fewer than 3% will go on to a 4-year college.
Those statistics are a large part of the story of our American underclass. People of privilege don't talk much about our underclass. It's stuck behind the curtain of our optimism and the guiding myth of opportunity. We agree, us privileged (P.S.: you almost certainly fit in), not to pull back the curtain and reveal the unswept backstage. But I'm supposed to let the narrative speak for itself.
In prison, I spoke with twenty-five boys per group. They wore various issued hues of green tees and pull-up pants, what could be sweats or surgical scrubs. I'm there ostensibly talking about my new book, What Else But Home: Seven Boys and an American Journey Between the Projects and the Penthouse. The City Youth Now counselors know that having a (deeply involved) man in a boy's life, whether it's a father (most all of these boys are from fatherless homes), a sports coach, or a true mentor, can make all the difference. I write MENTOR on the white board during each class. I ask two questions: "Who will love you? Who will care about you?" They're the same question. A teacher fetches a pencil and I pass around my notebook, asking the boys to write answers. It's not fair of me. It's gut wrenching. I want to push, for them and me to get as close as we can in little time to what might save lives. To what I'm convinced through my eleven years now of being the father of underprivileged boys who didn't have fathers and lived in the great sucking vacuum of that absence, is a matter of life and death. Boys in danger cannot think of themselves as alone, or they come to rely on peers/gang brothers. They need a mentor, a coach, a dad.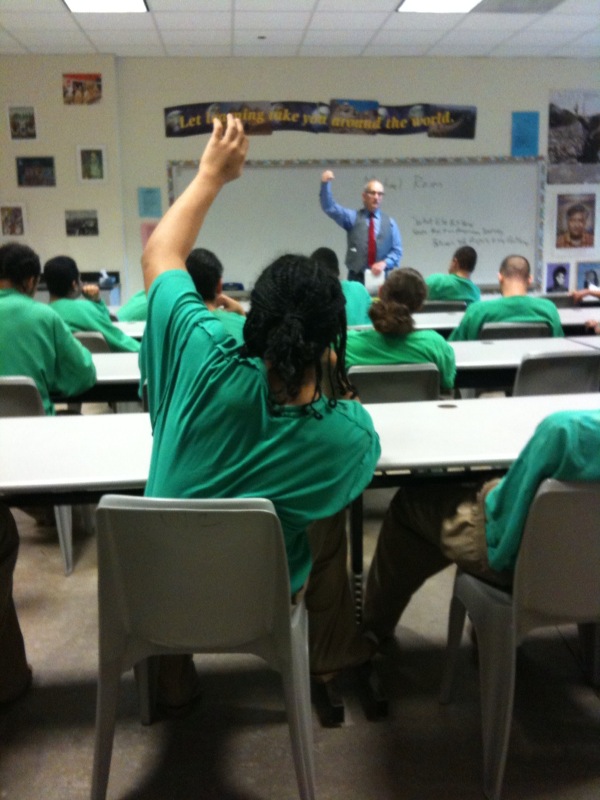 A guard makes sure the short stub of pencil is in his hands when the notebook comes to me. You know why.
One young man, Dante, wrote: "When it all falls down at the end of the day, alone in my room sitting in a corner thinking with all the lights off, I will love me. I will care about me the most! More than any man or any woman ever will." I'd spoken with Dante before I read his note. He's not small, but slight. He's eloquent. He told me he'd been in for two months. His teachers, later, told me he'd been in for two years. I can see him in his cell at night, a door he can't open. He doesn't know the way through, anyway.
That's what I'm going to write about this week. Justice and compassion, social responsibility. Cain and Abel, Emmanuel Levinas the the extended family of seven boys we've raised. And some of their brothers, whom I haven't figured out how to touch. And as my son Kindu says, it's too hard out there on the grind. Can we really do that to kids? I've always been intrigued with Rabbi Heschel; how can we love our neighbor when we shut her and him up in a ghetto? I'll have a latte, please.