Nothing To See Here! The Clintons Are Making It Impossible To Vet Their Records
Hillary Clinton is a thoroughly vetted candidate, about whom there is nothing left to learn. That's probably why the Clintons are shutting down the release of confidential papers from the Bill Clinton presidential library. As Hillary Clinton would be delighted … Read More
By Daniel Koffler / March 7, 2008
Hillary Clinton is a thoroughly vetted candidate, about whom there is nothing left to learn. That's probably why the Clintons are shutting down the release of confidential papers from the Bill Clinton presidential library. As Hillary Clinton would be delighted to explain, there is nothing new under the sun about her record; therefore there is no reason anyone should get to look at, say, the chain of events that led from Denise Rich's $450,000 donation to the Clinton foundation to the pardon of Rich's ex-husband, the continent-galloping racketeer and fugitive Marc Rich. What sort of paranoid freak could possibly be interested in Hillary Clinton's records as first lady, who she met with, and what, if anything, she actually did?
Likewise, because the Clintons are so well vetted, they refuse to release their tax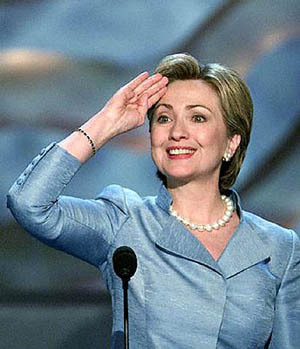 returns. The skeptical might point out that Hillary Clinton publicly demanded that her 2000 senate challenger Rick Lazio release his tax returns. But that's missing the point: Lazio was unvetted, and so he had an obligation to release the returns; Hillary Clinton is vetted, thus she has no such obligation. And besides, everything that there is to know about the Clintons has been known for years. Her 2007 tax returns couldn't possibly yield any fresh information about, say, Bill Clinton's $700,000 windfall profit off of a transaction on a non-public security backed by the People's Republic of China, with an anonymous buyer who paid far more than market value. Why, that's just old hat from the witch-hunts of the 90s. Bo-ring! The source of the savings that allowed Hillary Clinton to loan her campaign $5 million of her own money? Obviously the product of a lifetime of coupon clipping during all the years the Clintons lived on a government salary.
Similarly, what traction do opponents of Hillary Clinton's campaign hope to achieve by prying into Bill Clinton's relationship with his BFF, the Canadian mining tycoon Frank Giustria? In 2005, Clinton lobbied for the brutal Kazakh dictatorship of Nursultan Nazarbayev to assume leadership of the Organization for Security and Cooperation in Europe, thereby paving the way for Giustra to gain a foothold in the lucrative Kazakh uranium trade. Clinton went so far as to inform Nazarbayev that "recognizing that your work has received an excellent grade is one of the most important rewards in life." Shortly after the deal was completed, Giustra helped raise $21 million for the William J. Clinton Foundation. It's called a coincidence, people; and in any case, all of this was detailed in the Starr Report.
So the Clintons are perfectly justified in refusing to release the names of donors to the Clinton library since 2004. Prior to 2004, unreasonable, Kenneth Starr-like critics will observe, the list of donors included the royal family of Saudi Arabia, the State of Kuwait, Walmart and the Walton Family Foundation, professional war-with- Iran-monger Haim Saban, and many other similarly upstanding persons and institutions. Conspiracy-minded nutcases, of course, will suggest that Clinton library donors were hoping to curry favor with Senator Clinton or a potential future Clinton presidency. But that's preposterous; the far more parsimonious explanation is that every single donor was expressing his or her own gratitude for the 22 million jobs created in the 90s, particularly the Saudi royals.
Yes, it's high time that the press stopped giving a free pass to Senators Obama and McCain.