Old-School Comfort: Chicken Soup with Matzah Balls
Abe Lebewohl, Sharon's father, opened the Second Avenue Deli in 1954 on the Lower East Side as a ten-seat establishment. It quickly became a New York institution and remained so until its untimely closing New Year's Day of 2006, when … Read More
By Miriam Marcus / March 28, 2007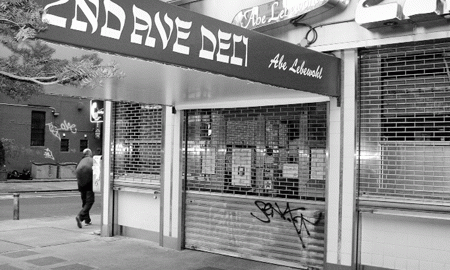 Jewcy loves trees! Please don't print!
Abe Lebewohl, Sharon's father, opened the Second Avenue Deli in 1954 on the Lower East Side as a ten-seat establishment. It quickly became a New York institution and remained so until its untimely closing New Year's Day of 2006, when its rent surpassed affordable. New Yorkers mourned many a comfort food lost, including this chicken soup with matzah balls.
The Lebewohl recipe was honed to perfection as it passed down through the generations. "Born with a soupspoon in her mouth," Ms. Lebewohl says the secret to the legendary potage is in her bones. Literally. In addition to a whole chicken, including parts like the neck, Ms. Lebewohl uses highly gelatinous beef marrowbones and flanken, a cut from the short ribs of beef, to boost flavor and body.
The Lebewohl recipe doesn't require any other intimidating ingredients and is fairly straightforward. Less than three hours after I started cooking, a delectable aroma filled my kitchen. Marveling at my own self-control, I managed to delay the taste test since, Sharon insists, the flavor improves the next day.
After the brew cools in the fridge overnight, you must skim and discard the fat that rises and congeals at the top (holiday food does not equal diet food). Pale yellow in color, the broth is rich and flavorful, and the last-minute addition of dill leaves an herby afternote. Bits of chicken are juicy and tender, but the true star in this nostalgic Jewish fare is the matzah ball. The traditional way to prepare matzah balls is with chicken fat, a.k.a. schmaltz. Though recipes found on boxed matzah balls often call for oil, Ms. Lebewohl's proves there is no substitute for chicken fat, as scary and caloric as it may be. Yet, thanks to a touch of baking powder, the balls remain light and buoyant with a smooth texture and perfectly seasoned, pepper-accented flavor.
Ms. Lebewohl's final product justifies its longevity.
Recipe: Chicken Soup with Matzah Balls
Page 1, 2, 3, 4 > Next: The Reinvention: Duck Consommé with Matzah Balls >