One Day, One Brazilian McDonald's, A Whole Lotta Kosher McNuggets
Why was this Sunday night different from all other nights for the Jews of Sao Paulo, Brazil? On all other nights, those Jews eat neither Big Macs, nor Happy Meals. But last night, they feasted on both! For the second … Read More
By JessM / June 16, 2008
Why was this Sunday night different from all other nights for the Jews of Sao Paulo, Brazil? On all other nights, those Jews eat neither Big Macs, nor Happy Meals. But last night, they feasted on both! For the second year in a row, a McDonald's in Sao Paulo gave kosher Jews a priceless gift: The usually not so kosher fast food establishment accommodated local Hebrews with a completely kosher dining experience.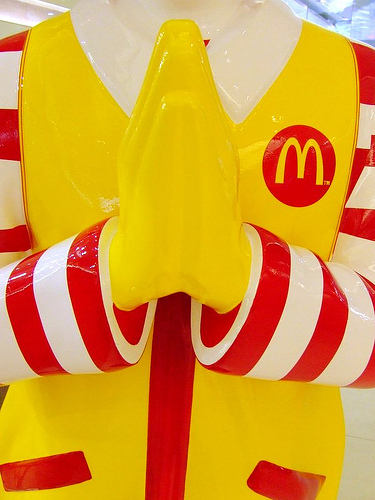 The kitchen and dining space at the McDonald's in the Barra Funda neighborhood of Sao Paulo was kosherized under rabbinic supervision Saturday night, and maintained kosher service for 24 hours, after which the Bacon McCheeses reappeared along with the usual treyf food items and utensils.
Why go through all the trouble just for one day of kosher service? Celso Cruz, McDonald's quality director, explained, "Our major goal was to offer the Jewish community in Sao Paulo the experience to have a meal in a McDonald's with the same quality standards and the unique taste of our products."
Last year's event was a big success, with hand washing stations set up outside, a major police and EMS presence just in case things got rowdy, and more burgers sold in one day than that particular McDonald's branch has ever seen. Check out pictures and read more about last year's event here.