"The Nazis, Too, Imagined a Perfect Human"
26 January 2007 Dear Mahmoud Ahmadinejad, In your letter, you claim that both the U.S. and Iran are justice-seeking nations. Justice must have a different meaning over there. Your legal codes place the value of a woman's life at half … Read More
By Julie Orringer / January 26, 2007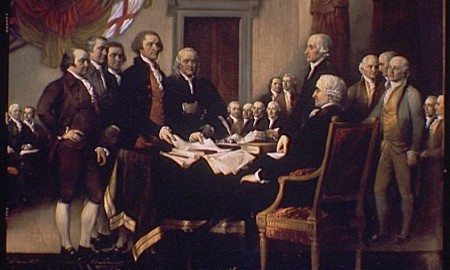 Jewcy loves trees! Please don't print!
26 January 2007
Dear Mahmoud Ahmadinejad,
In your letter, you claim that both the U.S. and Iran are justice-seeking nations. Justice must have a different meaning over there. Your legal codes place the value of a woman's life at half that of a man's, forbid a woman to leave the house without her husband's permission, and offer 74 lashes to those who appear in public without a hijab.
But it's your claim that both nations "seek perfection" that really makes me bristle. True, the word perfect appears in the preamble to our constitution. But the framers' goal wasn't for our union to be perfect; they wanted it to be more perfect. They knew that our country would be characterized not by perfection, but by a struggle to be better.
You mention the "perfect human" who'll arrive to lead us all. The idea of a perfect human isn't a new one, and it's not restricted to religion; the Nazis, too, imagined a perfect human, or a race of perfect humans. My Hungarian Jewish family didn't qualify. My grandfather and his brothers were pressed into forced labor for the Hungarian army; the oldest brother died, and the younger ones became prisoners of war. Their parents and grandparents died in Auschwitz.
I've spent the past four years writing a novel about their experience. Do I have personal reasons to be wary of perfection, and of totalitarian governments in general? I do. Maybe that prevents me from responding dispassionately to your letter. But I don't think a dispassionate response to you would be useful or appropriate.
It's become a commonplace to draw connections between your administration and Hitler's. To do so is an exaggeration and oversimplification. But the parallels remain. Hitler killed those who failed to meet his ideal. You, too, use extreme measures to advance your vision of national perfection. In your prisons, political dissenters are beaten and tortured; your government ends the careers of academics whose views don't coincide with strict Islamic belief, and it silences the press when it voices imperfect opinions.
Our own imperfect nation is a churning jumble of religious beliefs, political views, and ethnicities, and it exists in a constant state of tension and redefinition. Its nature is to be self-examining, and to use inquiry, disagreement, and discussion toward its own evolution.
Our love of truth doesn't presume a single preeminent truth, or an eternal truth, except for the idea that all humans (men and women) are created equal, and are endowed with the rights of life, liberty, and the pursuit of happiness. We don't want our leaders to be embodiments of perfection; we want them to protect the right to dialogue. I'm thrilled that we managed to shame George W. Bush, another would-be perfector, in our recent legislative elections, and that your people gave you a similar whipping in your own.
So let's forget about striving for perfection and think about the merits of imperfection. Let's admire the wisdom of America's constitutional framers, who understood that a nation should be an evolving thing. If the U.S. has acted wrongly in the world—and we certainly have, and continue to do so—we've got to recognize our wrongs, and right them. And we'll be the friend and ally of nations who do the same. I hope Iran comes to be one of them.
Sincerely,
Julie Orringer