Two Recipes, But Only One Winner
Despite its offbeat flavor, I liked the pizza. With enough olives and capers it can be a zestful crowd pleaser. The preparation is easy enough to make it worth a try, especially if it looks like you're stockpiling matzahs for … Read More
By Amy Odell / April 16, 2007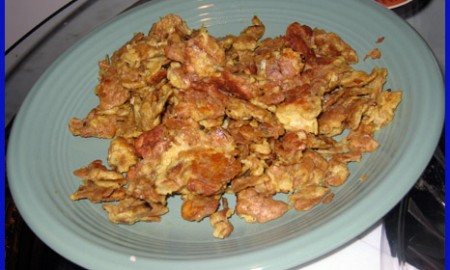 Jewcy loves trees! Please don't print!
Despite its offbeat flavor, I liked the pizza. With enough olives and capers it can be a zestful crowd pleaser. The preparation is easy enough to make it worth a try, especially if it looks like you're stockpiling matzahs for the next ice age in your pantry. Besides, it totally beats saucing and cheesing matzah and throwing it in the toaster oven.
But the Barney Greengrass recipe deserves the gold medal. Matzah brei is a dish rooted in upbringing. Every time I eat it I think of my mother and her overflowing pie plate. Mr. Simone's traditional recipe is a true comfort: Upon first bite I felt like I was sitting at my place at the dinner table home in Austin. That's a feeling no pizza comes close to matching.
When done right, matzah brei is that good.
* * *
Traditional Matzah Brei
Recipe courtesy Nicholas Simone

Yield: 4 Servings
Ingredients: 10 eggs ½ cup half-and-half 8 plain matzahs 6 tbsp butter for skillet
Suggested toppings:
Apple Sauce Preserves Powdered Sugar
Method:
Beat eggs and half-and-half. Break matzahs into about 1 inch pieces into egg mixture. Let stand for 30 minutes.
Heat a skillet or large sauté pan on the stove over medium high heat. Add butter. When foam subsides add matzahs.
For scrambled brei, stir as if making scrambled eggs until brei is browned and chunky.
For pancake-style, allow the brei to form a firm brown crust before flipping.
Serve with applesauce, preserves, or powdered sugar.
Matzah Brei Pizza
Recipe courtesy Mitchell Davis

Yield: 6 to 8 servings
For the matzah crust: 3 tablespoons extra-virgin olive oil, plus additional olive oil for greasing the pan 1 medium onion (about 6 ounces), finely minced 2 small cloves garlic, minced 1/4 cup dry white wine 1 to 2 tablespoons chopped fresh herbs (any combination of rosemary, thyme, oregano, or marjoram will work) 8 plain matzahs (not unsalted), broken into 1-inch pieces 5 large eggs 1 teaspoon kosher salt Freshly ground black pepper, to taste
For the toppings: Tomato sauce or imported Italian whole plum tomatoes Fresh mozzarella, thinly sliced Black olives, capers, or other flavorings Fresh herbs Extra-virgin olive oil
Lightly grease a jelly-roll or half sheet pan with olive oil, line with parchment paper, and lightly oil the paper. Set aside. Preheat the oven to 400°F.
In a small sauté pan, heat the 3 tablespoons of olive oil. Add the onion and garlic and sauté until soft and translucent. They should not take on any color.
Add the wine and cook off the alcohol, about 3 or 4 minutes.
Stir in the fresh herbs and set aside.
Place the broken matzah in a large bowl and cover with cold water. Let sit for a minute or two, until the matzah is just soft but not soggy. It should still have a slight snap when you break a piece of matzah in half. Drain thoroughly.
Add the sautéed onion mixture, the eggs, salt, and pepper, and mix well.
Dump this mixture into the prepared pan and spread out to cover the surface of the pan evenly. Place in the preheated oven and bake until set and just slightly golden brown, about 10 minutes.
Remove from the oven. Turn the oven up to 450°F.
Arrange the toppings on the crust, using the sauce or whole tomatoes that you squish in your hands. Make thin, even layer of cheese, sprinkle with herbs and drizzle with olive oil.
Return to the oven and continue baking until the cheese has melted and browned, about 15 minutes. Cut into squares and serve hot.
© 2004, Mitchell Davis