Visual Dispatch: Jerusalem Day
Forty-one years have passed since Jerusalem was reunited as a result of the Six Day War. A couple of days ago the streets of Jerusalem were thus once again packed with revelers that slowly made their way, singing and shouting, … Read More
By Paul Widen / June 4, 2008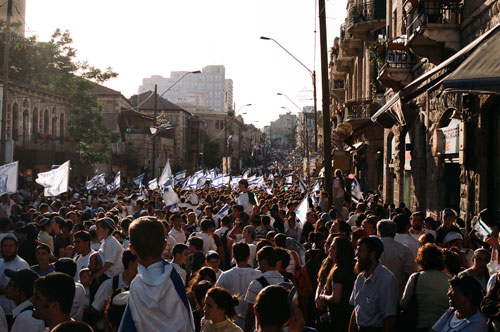 Forty-one years have passed since Jerusalem was reunited as a result of the Six Day War. A couple of days ago the streets of Jerusalem were thus once again packed with revelers that slowly made their way, singing and shouting, through the narrow alleys of the Old City to the Western Wall. By nightfall, tens of thousands had filled the plaza facing it.
This is what is left of the holiest site of Judaism: Not the place in itself, nor a ruin, but the ruin of the wall that once marked its perimeter. Standing there means being one significant step removed from the ideal: it means standing on the Outside in some sort of genuine sense.
As I was standing there, I was reminded of a discussion I had a while back with a secular Jewish woman. I remember saying that Judaism, to me, is a witness to the fact that something is fundamentally broken in the world, and that the Western Wall is a very graphic symbol for this. I did not suggest that any practical steps be taken at this point to change that fact, but this woman nevertheless felt it pertinent to exclaim, "May it remain broken! May it remain broken!"
This, to me, is a very curious position to take, and my failure to share this woman's defeatism probably explains why I fail in political moderation. Wishing for things to remain broken can only indicate that you live in a bubble where this brokenness means quaint Diaspora culture, not persecution and suffering. From this perspective, religious Zionism is perceived as a crude and dangerous idea, an obstacle to peace, and a violent and chauvinistic perversion of Jewish values.
The vast majority of the people that filled the Western Wall plaza as Yom Yerushalaim drew to an end adhered to this idea. Pushing and shoving they hastened to the wall, where the longing for complete redemption is so palpable that you can almost cut it with a knife. "May the Temple be rebuilt, the City of Zion replenished," they sang, as the Dome of the Rock towered over them in perfect serenity. Then came the piercing call of the Muezzin: Allahu akbar; Allaaaaahu akbar, suggesting that God, perhaps, is greater than all this.
Redemption is not a guarantee in Judaism, and the opportunity can be squandered in any number of ways. The real tragedy, however, comes when an unadulterated loyalty to the hope of complete redemption is branded as fanaticism, and when people settle for, even promote, the brokenness which has defined Judaism for 2000 years. Essentially these people still live in the Diaspora, despite the fact that they reside in the Land of Israel. It is never too late to lose the Six Day War, they claim: it would in fact be of great benefit to finally reverse that victory. It is, ironically, a very Jewish thing to say.
(Photography by Paul Widen)