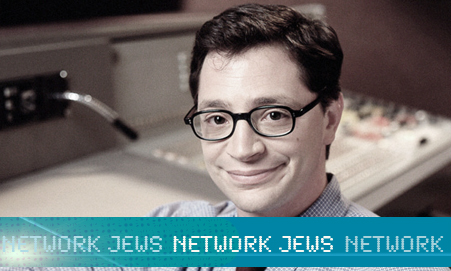 Once upon a time, Aaron Sorkin made a series about the bright and energetic staff of a television news program, determined to restore television—and art, and people, and the world—to former glory. They battled short-sighted, money-driven executives who knew nothing about journalism and treated ratings books like sacred texts. Many scenes, an implausible number, began or ended with someone yelling in a conference room.
The year was 1998, and the show was Sports Night. It served as a testing ground for the traits and motifs that have become signature Sorkin-isms, on full display in his most recent series, HBO's The Newsroom, another show about the making of a television show. Sports Night follows the anchors and producers of an eponymous cable sports show as they write scripts, splice film, and make painstaking decisions about what deserves to make it into their one-hour program. We never know what exactly makes their show superior to its competitors on ESPN and CNN Sports—but we assume it is, because surely no one is better at their job than these folks, and they want to succeed so damn badly.
No one loves his job more than Jeremy Goodwin (Joshua Malina), the nerdy, nervous, Jewish boy-verging-on-man who joins the team as an associate producer on the series premiere. Though Jeremy's title makes him decidedly middle class within the staff hierarchy, it is his journey that to a large extent frames the series. We squirm when his first segment assignment ends in unmitigated disaster (spoiler alert: Bambee dies!); we swoon during the candlelit picnic he sets up for shiksa-goddess Natalie, which he accidentally sleeps through; we watch with dread as he then diligently wrecks his relationship with said shiksa goddess, whom he's always feared was too pretty and too cool for him. Even as Jeremy comes into own as a character and a producer (more snark, less twitching), he never loses that sense of wide-eyed wonder we see in the first episode—a genuine awe at the chance to make something great. On Sports Night, that means the best damn sports show out there.
Whatever the virtues of the show—and I would say there were many—it is not the place where Sorkin makes his most nuanced points about Jewish identity. For that, viewers had to wait for The West Wing, which premiered the same year Sports Night ended, in 1999 (see: Toby Ziegler and Joshua "Lemon" Lymon). Jeremy's Jewishness is mostly the stuff of passing asides, like when Dana, the the show's hyper-competent, whip-smart executive producer (who's also something of a basket case), refers to him as "matzo ball" in a staff meeting. But there is also the episode deep in the second season, when Judaism takes the fore—sort of. Dan (one of the two co-hosts) asks Jeremy to join him in a no-frills Passover seder he's organizing for the few Jewish members of the staff. Jeremy quickly agrees, but insists on writing the pageant.
DAN: The pageant?

JEREMY: Well, there are sections of the Haggadah that, quite frankly, could use a polish.

DAN: You're gonna do a rewrite on the Haggadah?

JEREMY: It's not written in stone, Danny.

DAN: Actually, some of it is.
The result of Jeremy's efforts is a distinctly unorthodox affair, held—where else?—in the conference room. For one thing, most of the participants are gentiles. For another, Pharaoh has a personal assistant named Maggie. Theological revisionism aside, the seder is not meant to make groundbreaking points about Judaism. Instead, in typical Sorkin fashion, it serves as a kind of community affirmation, a chance for the staff to come together and remember how much they care about one another, as their corporate parent's foundering puts the beloved show in jeopardy, along with all of their jobs.
Though Newsroom has borrowed extensively from Sports Night, so far it has failed to reproduce its wit and charm. The effort to make the best television show out there, so earnest and inspired on Sports Night, drips with condescension in the hands of Will McAvoy, the unapologetic patriarch of Newsroom. His manic, inept executive producer—I'm sorry, I meant "former war correspondent"—doesn't help.
On Sports Night, Sorkin mixed quirk and competence in just the right amounts. It's been twelve years since ABC killed the series, and I can say only one thing: They don't make them like Jeremy Goodwin anymore.
Previously on Network Jews:
Harry Goldenblatt, the unlikely Casanova on Sex and the City
Max Blum, Happy Endings' solution to the Joey problem
Seth Cohen, The O.C.'s loveable dork