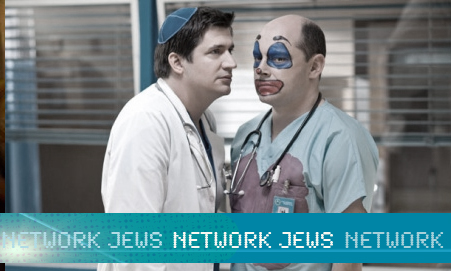 Childrens Hospital, the very recently Emmy-nominated Adult Swim comedy from former Daily Show correspondent Rob Corddry (the blood-soaked doctor in omnipresent creepy clown makeup that you may have seen in commercials for the show) is clearly not your typical doctor's show, or for that matter, television show. In each 10-minuteish episode, anyone can die and come back to life, medical procedures happen on a whim, and Henry Winkler (at his nebbiest) is a hospital CEO. More importantly, reality, plot lines, and any sense of decency are subservient to the all powerful and omnipresent joke.
But one stereotype that the show has picked up from the real world is the Jewish doctor, Dr. Glenn Richie (Ken Marino, of Party Down and Burning Love fame). Dr. Richie (get it?) is arguably the most grounded character on the show, and is one of the few mainstays who, from day one, hasn't died and come back to life, gotten fired/rehired, or undergone (spectacularly unsuccessful) successful neurological surgery. (You read that sentence correctly, and yes this show makes absolutely no sense). The arguably wackiest moment for this "stable" (extra emphasis on the air quotes) doctor involved him actually (but in reality, not really) chopping off his own finger to donate to a Middle Eastern sultan to prove his bravery to a girl in a "live" TV episode of the show. The girl ended up being a cross dresser played by Jon Hamm.
We are introduced to the yarmulke-clad Dr. Richie within the first few seconds of the premiere, in the weekly "previous episode" gag (similar to Arrested Development's 'in next week's episode,' where they show clips that won't actually appear in next week's episode), where we see him voraciously making out with Dr. Cat Black (Lake Bell) in front of a patient, his mother, and the rest of the floor. Typical hospital behavior. However, after Cat unexpectedly dumps him mid-kiss, Dr. Richie points to his yarmulke, causing Cat to respond, "No, it's not because you're Jewish." Immediately, Dr. Richie's Jewishness becomes a platform for a series of jokes that will play out in the next three minutes. Literally 30 seconds later, Cat confides in her best friend Dr. Lola Spratt (Errin Hayes), that she is in fact breaking up with him because of his religion. In a hilariously spot on observation, she says that "she just can't imagine spending every Christmas with a Jew, you know, lighting candles all the time, telling knock-knock jokes", while Lola chimes in "totally, driving minivans, reading books." We're rewarded with a series of Jewish stereotypes, from the offensive to the simply ludicrous.
This whole line of jokes has been a setup for the grand finale—one minute later, when Lola attempts to break up with her current boyfriend (because they're roommates and that would be totally confusing), he asks why, and she responds, "Are you Jewish?", to which he sarcastically answers, "Do I drive a minivan?" Game, set, match. No other show could match the amount of material that Children's Hospital just fit into five minutes, which happens to be half the length of an episode. It's a Borscht Belt comedian's dream come true.
Dr. Richie's crowning Jewchievement occurs in last season's penultimate episode, "Party Down" (Marino was a mainstay of the short-lived cult favorite show Party Down). After bad salmon sends two-dozen kids to the hospital during the Spiegelman bar mitzvah (the bar mitzvah boy: "I didn't know that the 10 plagues included cured fish"), Dr. Valerie Flame (Malin Akerman), Dr. Richie's girlfriend, declares that "there is only one man who can handle a situation this Jewish." Cut to Dr. Richie dominating a game of basketball against two African-American guys, monologuing that "being a Jew is fantastic: we have big hands, we kick ass at math, and we can lift three times our body weight." (To the best of my knowledge, while there is a stereotype that Jews are good at math, it's ants that can lift a multiple of their body weight.) Dr. Flame tries to get him to help the kinderlach, but is rejected when Dr. Richie admits to never having a bar mitzvah, so "according to Hebrew law," he's "still 12 years old." ("But don't tell his pubes that!").
Dr. Flame announces she'll throw him the best adult bar mitzvah the next day, and enlists the help of the man who tried to steal her away from Dr. Richie just one season earlier, the tzitzit-wearing, Shatner-cadence-mimicking, Rabbi Jewy McJewJew (series producer David Wain) to help with Dr. Richie's passage into adulthood. The episode manages to mock almost every bar mitzvah trope possible. Dr. Richie's crackly torah reading, hallucination inducing pre-mitzvah nerves (Rabbi McJewJew calls it "haleech benuash," which I'm pretty sure is made up, even though he says he's seen it before), and a gift from Dr. McJewJew—a light gray JC Penney suit from his own bar mitzvah, complete with a self-tying tie. Words like shalom, naches, hashem, mazel tov, bimah, oy, and goya are all dropped like they're hot, while Jewish males are usually seen wearing a small tallit at all times. Dr. Richie's bar-mitzvah speech is even incorporated to replace the usual episode wrapping voiceover.
Childrens Hospital is remarkable for its joke rate and absolute refusal to stick to reality, while simultaneously being able to mock almost anything it pleases. This episode basically takes the entirety of Keeping the Faith, removes the plot, and adds 3 billion cc's of crazy, which is what Childrens Hospital does best. Dr. Richie, and every other Jew in this episode, is a walking stereotype, ripe for joke-making, especially the post-credits Party Down reunion mini-gag.
Oh yeah, I forgot, this whole thing took place in Brazil. And there was a whole circumcision reversing secondary plot line. Forgot about that. Oy vey.
Previously on Network Jews:
Jeremy Goodwin, the wide-eyed Wunderkind on Sports Night

Harry Goldenblatt, the unlikely Casanova on Sex and the City
Max Blum, Happy Endings' solution to the Joey problem
Jonathan Feld is a second year medical student who hasn't written anything not-science related in 3 years.