LET'S SAYDER 4.0
East Side Jews & Reboot LA invite you to ACTIVATE your Seder DIY style with an adult Reboot Sayder Prep led by Amichai Lau-Lavie. ASK 4 Questions Make a change Find a new way to ritual Create your own path … Read More
By Jill Soloway / April 1, 2011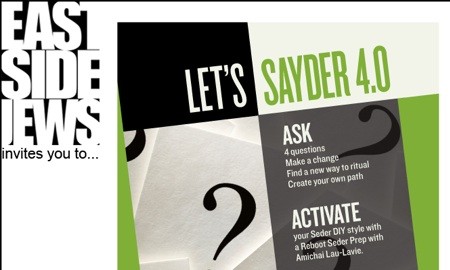 Jewcy loves trees! Please don't print!
East Side Jews & Reboot LA invite you to ACTIVATE your Seder DIY style with an adult Reboot Sayder Prep led by Amichai Lau-Lavie.
ASK 4 Questions
Make a change
Find a new way to ritual
Create your own path
$20 tix available now via the links to the left.