Jewltide
If you don't have a tree, you don't have an excuse! JDub Records & Jewcy Present: JEWLTIDE Featuring a Live Band Karaoke Contest Saturday, December 25, 2010 8PM Southpaw 125 Fifth Ave. Brooklyn, NY DJs, Drink Specials, Doughnuts $10 / … Read More
By greenman / December 13, 2010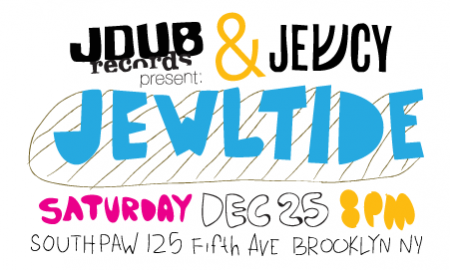 Jewcy loves trees! Please don't print!
If you don't have a tree, you don't have an excuse!
JDub Records & Jewcy Present: JEWLTIDE
Featuring a Live Band Karaoke Contest
Saturday, December 25, 2010 8PM
Southpaw 125 Fifth Ave. Brooklyn, NY
DJs, Drink Specials, Doughnuts
$10 / 21+
$1 from each ticket will be going to God's Love We Deliver, which works to improve the health and well-being of men, women and children living with HIV/AIDS, cancer and other serious illnesses by alleviating hunger and malnutrition.