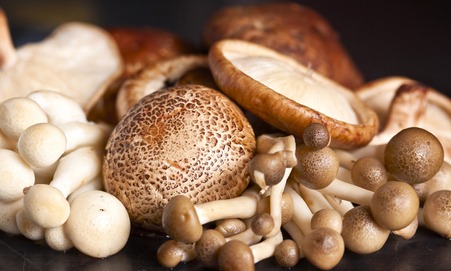 I've got a long time until I'm a Bubbe, but I can still share a few pearls of wisdom before this cold winter Shabbat begins: on a Shabbat like this one, any spare time should be spent with whoever warms your heart, not with the dirty dishes. This meal takes little effort.
Mushroom barley soup is a kosher deli and Bubbe staple. Bubbes brought it over to the new country from the old one, keeping their kinderlach warm on every continent. It was popular amongst Jews in Eastern Europe because both barley and mushrooms could be locally harvested to make a healthy and hearty soup. The key to a mushroom barley soup back then, and even today, is to balance both the mushroom and barley's earthy flavors.
Much like the classic version of this dish, this remake uses simple ingredients in order to complement the mushrooms and barley's natural flavors. The sweetness of the coconut milk and the acidity of the tomatoes help to bring out the mushrooms' beautiful flavor and create a light but filling soup. One bowl, and it's one meal. It was that simple then, and it's that simple now.
Not Your Bubbe's Mushroom Barley Soup
Serves 8
Ingredients:
3\4 cup barley
1\4 cup olive oil
1 large leek (sliced thinly)
1 lb. Champagne mushrooms (sliced thinly)
1\2 lb. shitake mushrooms (sliced thinly)
5 garlic cloves (chopped)
1 teaspoon dry basil
5 oz. dry mushrooms
5 oz. sundried tomatoes (cut into slices)
2 1\2 cups boiling water
4 cups mushroom stock
2\3 cup coconut milk
1\3 cup apple cider vinegar
Salt and pepper to taste
Directions:
1. Set your barley in a bowl of water over night before making your soup.
2. Heat your oil in a large pot over a medium heat.
3. Add your leeks, fresh mushrooms, garlic, and basil.
4. Place your lid on top of your pot, and let the vegetables cook for half an hour.
5. Your vegetables should caramelize by the end of the half hour. You'll know they are ready when the mushrooms have shrunk considerably and your leeks have browned slightly.
6. Set your sundried tomatoes and dry mushrooms in the boil water, and let them soak for 10 minutes.
7. After your vegetables are done caramelizing, add your dried vegetables and their liquid into the pot.
8. Now add the rest of your ingredients including the barley.
9. Cook your soup for another half an hour with the lid on top.
Previous: Not Your Bubbe's Potato Latke Galette
(Photos by Derris Lund/Shutterstock and Aviv Harkov)