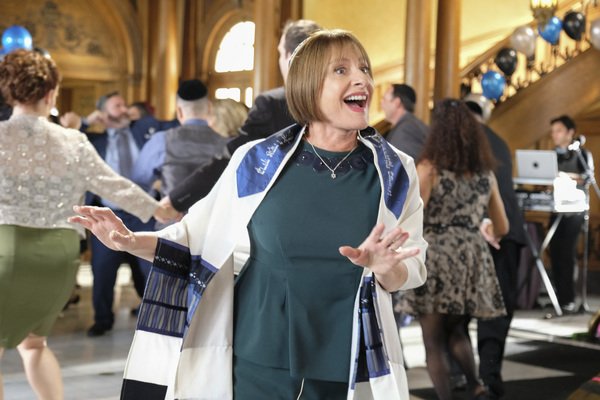 And yea, was the year of 2016, generally speaking, a steaming pile of crap. And lo, did the Lord look unto the people of America and say, "For thy pains, this reprieve." And behold! In the dawn of 2017 was it announced that Patti LuPone would guest star on Crazy Ex-Girlfriend.
And not just as anyone— the great musical theatre diva is set to play a rabbi. On an episode entitled, "Will Scarsdale Like Josh's Shayna Punim?" (yes, really), Rebecca Bunch (show creator and star Rachel Bloom) has to go to Westchester for a family Bar Mitzvah, and LuPone plays her rabbi (perhaps from childhood? We shall see.). Tovah Feldshuh is also back in her recurring role as Rebecca's mother.
Here they are together. Hallelujah.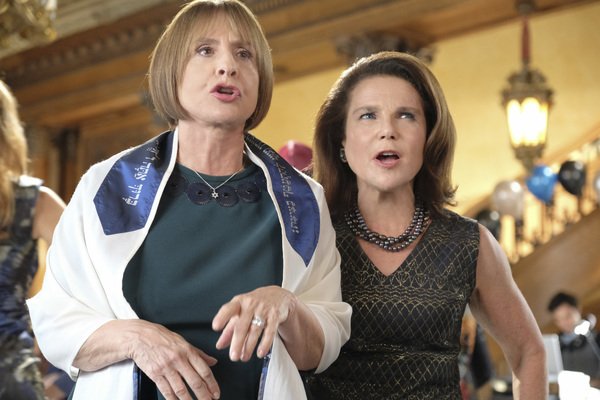 LuPone isn't personally a Member of the Tribe, but in addition to being besties with Mandy Patinkin as sufficient cred, she has played Jews before— in fact, she'll star on Broadway as Helena Rubinstein in War Paint in just two months.
Not only do we get another female rabbi on mainstream television (joining the ranks of shows like Transparent, of course), but we get to see Patti LuPone rocking a tallit, kippah, and magen david necklace. Baruch HaShem.
The Crazy Ex-Girlfriend episode in question airs Friday, January 13th. Yes, which is Shabbos, if you don't watch TV then. But the Lord also giveth DVR and a host of streaming platforms.
Amen.
Image credits: Scott Everett White/The CW — ©2016 The CW Network, LLC All Rights Reserved. Via BroadwayWorld.