Gene Simmons, Please Stop Embarrassing Us
The KISS frontman's spat with Ice Cube is a shonda. Read More
By Gabriela Geselowitz / April 13, 2016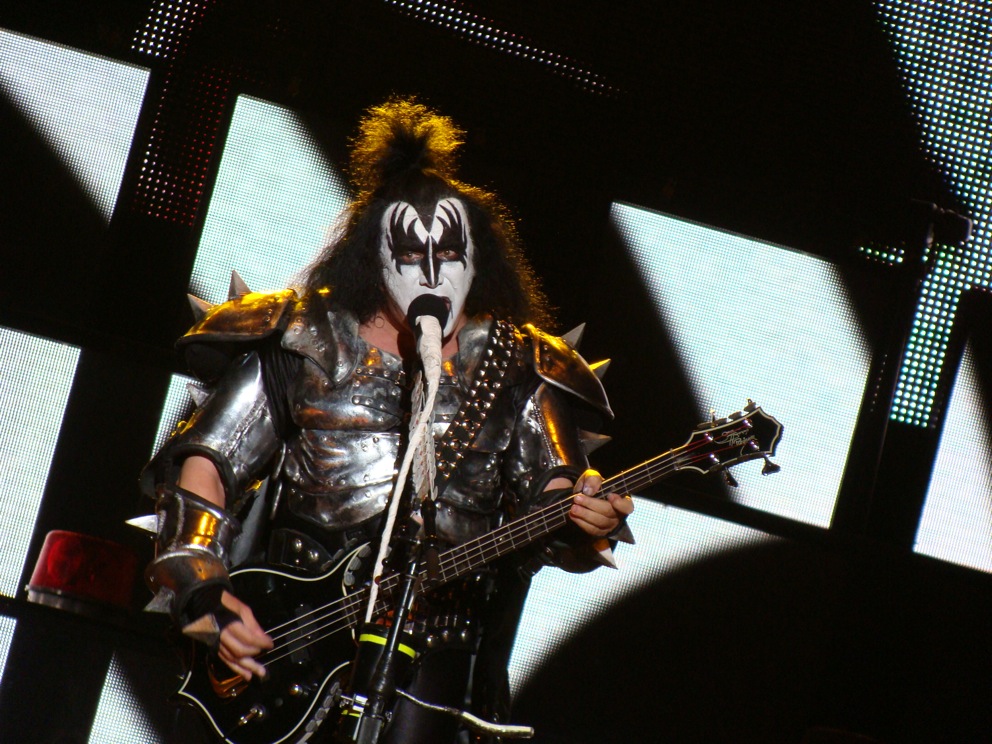 Gene Simmons is good at many things. Wearing platform boots. Painting his face. Marketing his image (wow, you can still get a "Rock and Roll All Nite" toothbrush online!). But subtle, sensitive critiques of the music industry is not one of them.
The KISS founder has recently been in a back-and-forth with rapper Ice Cube about the place of hip-hop in rock and roll, and he's only revealed himself to be another clueless white guy.
Ice Cube's legendary hip hop group N.W.A was just inducted into the Rock and Roll Hall of Fame, and in his acceptance speech, Ice Cube responded to recent anti-rap statements of Simmons, saying, "I want to say to Mr. Gene Simmons that hip-hop is here forever." Simmons took to Twitter to respond:
Respectfully– let me know when @JimiHendrix gets into the hip hop hall of fame. Then youll have a point. @icecube https://t.co/BRuU8t5vYe

— Gene Simmons (@genesimmons) April 9, 2016
Here's the thing, Gene. You recently stated that you hate rap, revealing your bias. You don't want hip hop out of the Rock and Roll Hall of Fame. You want it off the airwaves.
Simmons and Ice Cube then engaged in a somewhat awkward Twitter back and forth, with Ice Cube respectfully arguing that hip hop can fall under the umbrella of rock and roll and Simmons arguing about how Led Zeppelin shouldn't get into the Rap Hall of Fame (for the record, Gene, it's called the Hip Hop Hall of Fame), so it's a double standard.
At one point in the conversation, Ice Cube pointed out that rock and roll was originally invented by African Americans, and then co-opted by white-run media. He has carefully explained how evolving black art forms should therefore still fall under that umbrella, and Simmons has, albeit with polite language, shaken his fist at the sky like a white student who complains about affirmative action as a form of "reverse racism."
It stinks that Simmons has to be the subtly racist white guy who talks down someone else's culture, who says all things are equal and if KISS doesn't belong in black culture, N.W.A. doesn't belong in a genre that became so much whiter than its roots.
It's embarrassing because Simmons was, as many know, born Chaim Witz in Israel to a Holocaust survivor. When he, an ethnic minority from a background of oppression, is dismissive of the experience of others, he's broadcasting loud and clear that he's white, successful, privileged. And while there's nothing wrong with being those, it's wrong to disrespect those who are still struggling, and acting like the struggle was never his own. It's part of the ongoing embarrassing whiteness of Jews in America— a few years of success, and many of us act like we hopped off of the Mayflower and into Ivy League schools.
This whole thing is maybe even worse than when Simmons was rude to Terry Gross, and referred to her as having a "gentile mouth" (she's Jewish, too).
Gene, stick to singing "I Was Made for Loving You." Because you were not made for nuance.
Image credit: Wikimedia