NOW IS THE TIME. NOW IS THE BEST TIME. NOW IS THE BEST TIME OF YOUR LIFE.
A new play about gnomes, 'Dirty Dancing,' history, and, well, everything. Read More
By Gabriela Geselowitz / November 1, 2016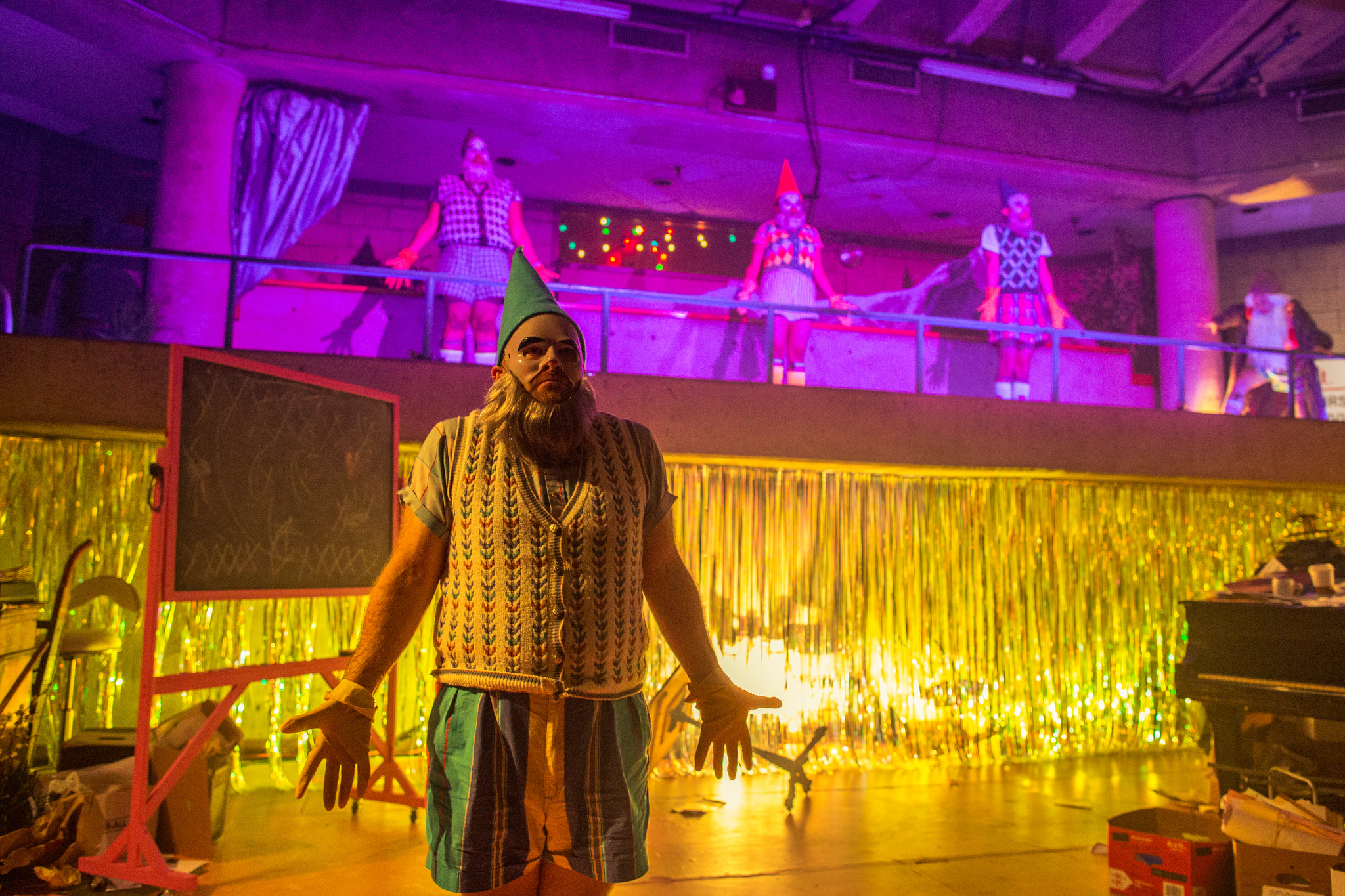 Buckle up, because currently playing in New York is NOW IS THE TIME. NOW IS THE BEST TIME. NOW IS THE BEST TIME OF YOUR LIFE. Yes, that is the full title, a quote from Disney's "Carousel of Progress," stylized in bold and all, and it's way too fun to abbreviate. If you can't handle the name, you can't handle the show.
Describing the interminably-titled play is a bit like recounting the dream you had last night. As in, …and then there's a man, and over time I realize he's Diedrich Knickerbocker, and he's in an abandoned Catskills resort, and he's complaining about his unfinished work, and all of a sudden Rip Van Winkle is there and start's singing 'Manhattan' and then there are CREEPY GNOMES EVERYWHERE.
So let's take a step back. Little Lord is a New York-based experimental company; their work tends to be Jewish and queer in themes, historical pastiche in background, and zany in execution.
Take their most recent work before this, 2015's BAMBIF*CKER/KAFFEEHAUS. The central figure was Felix Salten, the Jewish creator of both Bambi and a famous pornographic satire novel, plopped in a maelstrom of cultural references and contexts, playing with coincidences that were too delicious to ignore (like the fact that Salten knew Theodore Herzl).
NOW IS THE TIME. NOW IS THE BEST TIME. NOW IS THE BEST TIME OF YOUR LIFE. follows a similar formula; instead of Salten, the main "character" is Diedrich Knickerbocker, the historian alter-ego of Washington Irving who is the reason that Knick is a synonym for New Yorker. Knickerbocker famously went "missing" in a publicity stunt to promote Irving's work. Irving, of course, also wrote Rip Van Winkle, the story of a New Yorker who sleeps for decades and wakes up to find his world entirely changed. The Borscht Belt was a series of resorts in the Catskills Mountains in Upstate New York that attracted predominantly Jewish clientele, were immortalized in Dirty Dancing, and have now largely shuttered or fallen into disrepair.
Is it all starting to come together? Well, Let Little Lord give it a try, using all of the elements above, and then some. On a set that looks like a hurricane hit Grossinger's fifty years ago (and no one ever cleaned up the mess), Knickerbocker (Michael Levinton, who also directs and co-wrote the show with Laura von Holt and the company) is our central figure, lamenting the magnitude of producing a truly comprehensive history of anything. His companion is, yes, Rip Van Winkle (Lisa Rafaela Clair), a source of Yiddish flair with a rumination about food here, a ditty there. The ensemble dressed as creepy garden gnomes are a sort of chorus, at times, for example, representing guests of the once vibrant resort (one of the more affecting moments in the play is a poignant, eerie round of the "Kellerman's Anthem" from Dirty Dancing).
As the play progresses, there's no plot in the conventional sense, but threads are followed through and discarded, and Knickerbocker's anxiety is a reminder to the audience that lost is an entirely reasonable place to be. Th work is largely found text, and characters quote everything from old tomes to memoirs to the Princess Bride as the show tries to grasp the vastness of history (with New York as its center-point, naturally).
After all, what does it mean to long for the past? Is there any authenticity to an idealized New York City? New York State? What about specific mysteries we can never uncover, like the fate of Henry Hudson? And wouldn't it be chilly with no skin on? The play has no answers, of course. There's hardly time to ask all the questions.
NOW IS THE TIME. NOW IS THE BEST TIME. NOW IS THE BEST TIME OF YOUR LIFE. solidifies that Little Lord is a company to watch, especially if you're interested in Jewish theatre that does more than prop up stereotypes as characters or make cultural winks that will make an audience laugh with recognition but stop short of looking beneath the surface. Asking questions, as this play does constantly, is the most Jewish thing you can do.
In this show, even playing bingo at a resort is a heavy prospect. After all, Jewishness, fixated on some ephemeral idea of "continuity," means seeing all of time stretching behind you. While the universe is all at once dark, or silly, or make no sense at all, the weight of it all can still be overwhelming. This show perfectly replicates that sensation.
Plus, snacks seem to feature prominently as a running bit in Little Lord shows (free pickles at this play!), and if that's not Jewish theatre I don't know what is.
Yes, seeing a Little Lord show can be a bit much, and make you feel like you need to do homework. To prepare for this play, for example, you might benefit from reading the complete works of Washington Irving. And watching Dirty Dancing. And reading the Henry Hudson's Wikipedia page. And Jenny Grossinger's, while you're at it. And reading Ecclesiastes in both English and Hebrew. And checking out the photo exhibit "Echoes of the Borscht Belt." And learn some schoolyard rhymes.
Or, you could give up, dive into the experience, and accept that at some point you will fail to follow the text and let it be what it is; Jewish theatre, thought-provoking, and a real good time.
NOW IS THE TIME. NOW IS THE BEST TIME. NOW IS THE BEST TIME OF YOUR LIFE. plays at Abrons Arts Center, 466 Grand St., through November 5.
Photo (L-R): Sauda Jackson, Avi Glickstein, Kaaron Briscoe, Ry Szelong, Lisa Rafaela Clair. By Kelly Stuart.