The Yiddish Walk of Fame
Who are the dozens of performers who have stars in the Manhattan sidewalk? And are any still alive? Read More
By Gabriela Geselowitz / August 16, 2016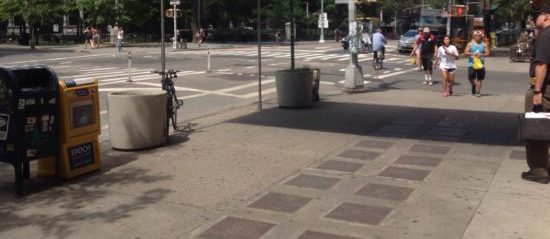 As I wrote about yesterday, we lost great actor Fyvush Finkel over the weekend, so I went to visit his star on the mostly-abandoned Yiddish Theatre Walk of Fame.
The Walk, I explained, on 10th Street and 2nd Avenue, dates only to the 1980s, but these days sits in disrepair, and a lot of the names are near-indecipherable. There's no comprehensive list of who's who of the walk (though this one isn't bad), so I decided to make one.
Here, in no particular order, are the over sixty Yiddish greats:
Fyvush Finkel– (May his memory be for a blessing)
Molly Picon-Like Finkel, she had great crossover success, including playing Yenta the matchmaker in the Fiddler on the Roof film. She died in 1992.
Jacob Kalich, Picon's husband, was an actor as well (he also appeared in the Fiddler film, credited as Yankel).
Pesach Burstein did it all: Singing, directing, vaudeville, you name it. he died in 1986.
Lillian Lux was married to Burstein (they wed on tour in Uruguay), but was a great performer in her own right, including starring on Broadway, and often wrote her own material. She died in 2005.
Mike Burstyn-The son of Pesach Burstyn and Lillian Lux, this performer mostly did Yiddish theatre as a child, then going by Motele, before transitioning to other areas of performance in adulthood, such as starring on Broadway in Barnum and off-Broadway in The Rothschilds. A documentary about the Burstein family (which includes Mike's sister Susan), The Komediant, won an Israeli Best Documentary Award.
Joseph Buloff not only had a wildly successful career in the Yiddish theatre, his other roles included the original Broadway cast of Oklahoma! He was Ali Hakim, the "Persian" peddler often coded as Ashkenazi Jewish. He died in 1985.
Luba Kadison, who was married to Buloff, was a member of the famous Vilna Troupe. Perhaps her most iconic role was that of the demon-possessed bride, Leah, in The Dybbuk. She died in 2006.
Irving Grossman was as home on the Yiddish stage as in English vaudeville, and was also an important figure in theatrical unions. He died in 1964.
Dina Goldberg, like many other actors on this list, appeared in the film Catskill Honeymoon. Also called Diana (such as when she appeared on Broadway in Milk and Honey), she often worked with Grossman, to whom she was married.
Seymour Rexite was a performer of stage, screen, and radio, and president of the Hebrew Actors Union. The story goes that Rexite sang for Calvin Coolidge, who was so moved he granted entry visas for family members who were still abroad. He died in 2002.
Miriam Kressyn was married to Rexite, and in addition to acting she was also a playwright, drama, and professor of drama. She died in 1996.
Jack Reckzeit was Seymour Rexite's older brother, and allegedly it was he who wrote the song that Seymour sang to sway President Coolidge. Like his brother, he served as the Hebrew Actors Union president. He died in 1988.
Leo Fuchs was known as the "Yiddish Fred Astaire," highly prolific during his prime, and performing in Cabaret on Broadway in his old age. He died in 1994.
Rebecca Richman appeared in many works of Yiddish theatre, including A Child for Sale and Here Comes the Groom (Fuchs, her husband, was her costar in the latter).
Leon Liebgold appeared on stage and screen, including in the film adaptation of The Dybbuk (his character was the doomed young man who becomes the titular vengeful spirit). He died in 1993.
Lilly Lilyana (also spelled Lili Liliana) was married to Liebgold, but not until after she starred with him in The Dybbuk as Leah. She died in 1989.
Irving Jacobson was a member of a prominent Yiddish theatrical families (and related to at least one other by marriage). He was mostly known for comedy and vaudeville, including songwriting. He died in 1978.
Hymie Jacobson was Irving's brother, and together in addition to performing they even owned theaters. He was married for a time to Miriam Kressyn before she wed Rexite. He died in 1952.
Ludwig Satz was declared in the New York Times in 1925 to be one of Yiddish theatre's greatest comic actors. He died (in America) in 1944.
Moishe Oysher was actually best known as one of the great cantors, and did a lot of radio, but he also performed on the Yiddish stage and screen. He died in 1958.
Leon Blank rose from singing in the chorus to becoming a solo star, turning down non-Yiddish roles for the community of "Second Avenue." He died in 1934.
Aaron Lebedeff also worked his way up to stardom (all the way from being a prompter). He was best known as a character actor. He died in 1960.
Alexander Olshanetsky composed for the Yiddish theatre (one of the "Big Four"), as well as conducted. He died in 1946.
Abe Ellstein was another one of the "Big Four," and his work included the hit Yidl Mitn Fidl. He died in 1963.
Joseph Rumshinsky was also in the Big Four, and also published his writings. He died in 1956.
Sholom Secunda rounds out the Big Four composers. He wrote the melody to the crossover classic, "Bei Mir Bistu Shein." He died in 1974.
Arnold Perlmutter was also a prolific composer for the Yiddish theatre. He died in 1953.
Maurice Schwartz did it all: acting, directing, writing, producing, and teaching others the art of theatre. He died in 1960.
Paul Muni was a protégé of Schwartz. That's right; the Paul Muni of Scarface and other Hollywood classics got his start in Yiddish theatre (his parents were actors, too). He died in 1967.
Menasha Skulnik starred on The Goldbergs, but before that he was a Yiddish theatre actor. He died in 1970.
Itzik Feld sang for the Yiddish theatre. He died in 1943, and on his tombstone (that he shares with his wife Lola), in English it says: "The play is done, the curtain drops/Slow falling to the prompter's bell."
Jacob P. Adler was a legendary actor, with a long, prolific career. Amongst his many projects was performing Shakespeare in Yiddish, including the titular role in a famous production of King Lear, and taking on Shylock in The Merchant of Venice. He died in 1926.
Sarah Adler was his wife, and an amazing performer as well (she had literally hundreds of leading roles). Their daughter together is Stella, as in, the woman who revolutionized American acting. Sarah died in 1953.
Henrietta Jacobson was part of a family heavily involved in the Yiddish theatre. She also choreographed and designed sets, and acted on Broadway. She died in 1988.
Julius Adler, Henrietta's husband, acted, wrote, and directed. He died in 1994.
Jacob Jacobs did everything comedy, from performing, to writing, to directing vaudeville. He died in 1977.
Betty Jacobs was married to Jacob, and was from a theatrical family herself. She was also a performer and was involved in a Yiddish theatre firm.
Mischa and Lucy Gehrman were a married couple, both actors. She died in 1954.
Herman Yablokoff was one of the biggest stars of his day, and another figure who worked both onstage and behind the scenes. He died in 1981.
Bella Meisel was Yablokoff's wife (and from a theatrical family), and a performer, including a singer. She probably died in 1991.
David Kessler was a great star, mostly known for his serious and dramatic roles. He died in 1920.
Zvi Scooler was an actor and radio announcer. Like Picon, he appeared in the film of Fiddler on the Roof (as the rabbi!). He died in 1985.
Ben Bonus was an actor and producer He died in 1984.
Mina Bern was married to Bonus, and was also an actor and director. Together with her husband, they created the revue "Let's Sing Yiddish." She also had an Obie Award. She died in 2010.
Mary Soreanu was once called the "Queen of Yiddish theater," dedicated to preserving its legacy after its heyday.
Lucy Levine was an actor and singer whose shows included The Golden Bride, revived to great success in 2016. She died in 1939, at only 32.
Boris Thomashevsky was an actor and creator of Yiddish theatre almost unparalleled in importance. He died in 1939.
Bessie Thomashevsky, married to Boris, was often her husband's co-star, but had a huge career independent of him. She died in 1962.
Rose Bozyk also went by Reizl, during her years as an actor. Later in life, she played Amy Irving's grandmother in Crossing Delancey. She died in 1993.
Max Bozyk, Rose's husband, was an actor, director, and theatre manager. He died in 1970.
Jennie Goldstein was an actor and singer best known for playing "unhappy heroines." She died in 1960.
Ida Kamińska was from a theatrical family who after a successful career stateside returned to Europe after the Holocaust to reestablish Yiddish arts. She died in 1980.
Michal Michalesko was a singer and "renowned actor." He died in 1957.
Art Raymond was a nightclub figure: bandleader, radio host, music expert, and all around cool purveyor of culture—Yiddish culture included. He died in 2014.
The Barry Sisters, as the appear on their plaque, were Merna and Claire (Minnie and Clara Bagelman, that is), and are sometimes known as a Jewish version of the Andrews sisters. They were a clear and important connection between secular and Yiddish culture in the mid-twentieth century. Merna died in 1976, and Claire died in 2014.
Abraham Goldfaden– The plaque continues "Founder of the Yiddish Theatre 1876," and that about sums it up. What Yiddish theatre would have become without him, in the United States or Europe, is doubtful. He died in 1908.
Daniel Libeskind is included as a "Friend of the Folksbiene" (that being the century-old Yiddish theatre company), because he and his wife Nina are patrons of Yiddish theatre, and advocates for its continuity. Libeskind is famous for being an architect, perhaps best known for winning the contest for redesigning the World Trade Center. His plaque was a late addition, in 2003.
Image credit: Gabriela Geselowitz