Not Your Bubbe's Stuffed Challah French Toast
By Aviv Harkov / November 15, 2013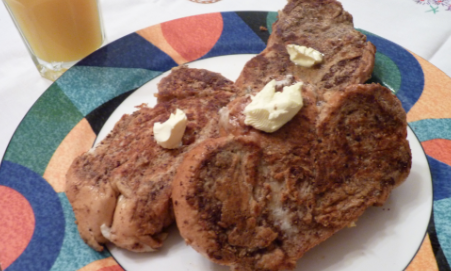 Shabbat just ended, you ate a big lunch, but that was so long ago that your stomach has completely forgotten about it. Now you're faced with the struggle between how hungry you are and how motivated you are to actively do something about it.
I won't lie. Many of my own Saturday night cravings have been met by bowls of cereal. By the time Shabbat is nearly done, all I want to do is hibernate. Luckily, there are simple and sweet things, like challah French toast that make climbing out of the covers worth it.
Challah French toast, like its white bread cousin, can easily be turned from a delicious dinner into a sugar-coated trip to the dentist. I think we've all bit into a piece of French toast with more sugar than bread, and enough cinnamon for it to feel like the cinnamon challenge with every bite.
The banana and cream cheese stuffing in this recipe helps balance the complete dish and prevents something sweet from turning into something sour. They provide your challah French toast a delicious and creamy element that leaves the original in its dust.
I don't know whose Bubbe gets credit for inventing challah French toast, but I know we all love her for it. Being that challah French toast can be found on the menu of greasy diners all across America, I don't think we're the only ones grateful for her experiment.
Not Your Bubbe's Stuffed Challah French Toast
Serves 3
Ingredients:
1/3 cup of cream cheese
1 banana
1 1/2 tablespoon brown sugar
2 large eggs
1/2 cup whole milk
1/4 teaspoon nutmeg
2 tablespoon cinnamon
1 teaspoon cardamom
1/2 a loaf of challah
Directions:
1. Heat a medium non- stick pan over a medium heat.
2. Mash your banana in a small bowl and mix it thoroughly with your cream cheese.
3. Beat in your brown sugar and set aside.
4. In a medium bowl thoroughly beat together the rest of the ingredients, excluding the bread.
5. Place your bowls in a row to make putting together your challah French toast easier. Start with your filling, then egg coating and then the pan.
6. Cut 1 1/2 inch slices of challah.
7. Now you want to create a "pocket" in the center of your slices of bread in order to fill them. You do so by cutting across the top of your slices of challah while leaving about 1/2 an inch of every side and the bottom in order to make sure your challah slices don't fall apart. Here's an idea of what your "pocket" should look like:
8. Spread about 2-3 tablespoons of your filling evenly across the insides of your "pocket."
9. Dip your pieces of challah French toast into your egg mixture so that each side is heavily coated in it.
10. Cook your challah French toast for about 4 minutes on each side or until it is ready according to your personal preference.
11. Serve immediately.
Previous: Not Your Bubbe's Thanksgivingukkah Meal
(Photos by Aviv Harkov)