Not Your Bubbe's Tuna Salad
Enjoy as an appetizer to your Shabbat meal Read More
By Aviv Harkov / November 1, 2013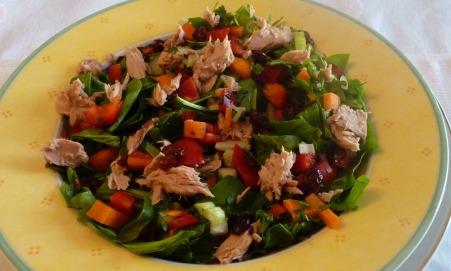 There it is, in the center of every kiddush table, under the counter of every self-respecting kosher deli, and tucked between two pieces of white bread: tuna salad. It's gray, it's bland, and occasionally it's neither a solid nor a liquid, but it's always there. It might sound like I am describing a ghost, but tuna salad, is a Bubbe classic.
Like most people, I love my grandmother, but personally, I can't get on the tuna salad bandwagon.
Tuna salad's taste tends to be about as flat as the bread it's spread on. Not all tuna salads are created equal; some have bits of chopped onions, other herbs, but they usual consist mostly of tuna and mayo. The tuna's silver coloring with the white mayo creates this unpleasant gray dish that is anything but appetizing.
Some things are classics for a reason; but when it comes to tuna salad, I think a big reason it's so popular is because it's so easy to make. I knew that if I had to remake this dish, it would still have to be made out of pantry staples in under 15 minutes. Here it is, a tuna salad, without mayo, filled with colors and bursting with flavors.
The fresh peppers give this salad a fun crunch you won't find in your Bubbe's recipe. The dressing is light and offers a sweet contrast to the fish's strong taste. Together, the salad's different elements make it a nice enough appetizer for your Shabbat table and make you forget that one of its main ingredients comes out of a can.
Cheetahs might not be able to change their spots, but in this recipe, a tuna changes its scales.
Not Your Bubbe's Tuna Salad
Serves 4
Ingredients:
1/4 cup of soy sauce
1/4 cup of sesame oil
2 tablespoons lemon juice
3 tablespoons balsamic vinegar
White pepper and salt to taste
3 1/2 cups of fresh spinach, chopped
1/4 cup of fresh mint, diced
1/2 cup of fennel, diced
1 large carrot, peeled and diced
1 red pepper, diced
1/4 cup of craisins
1 small hot pepper, diced (optional)
2 cans of white tuna in water, drained
Directions:
1. Mix your soy sauce, sesame oil, lemon juice, and balsamic vinegar together vigorously in a small container.
2. Season your dressing to taste with salt and white pepper.
3. Chop your vegetables and place them in a large bowl.
4. Toss the vegetables with your dressing.
5. Add your tuna and toss your salad again before serving immediately.
Previous: Not Your Bubbe's Rosh Hashanah Chicken
(Photo by Aviv Harkov)