Shake Up Sukkot With This Specialty Martini
One etrog cocktail, coming right up! Read More
By Leah Koenig / September 25, 2007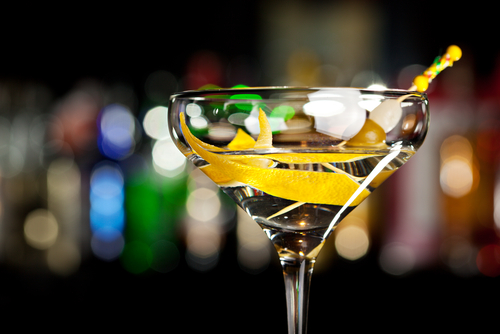 Everyone has a favorite martini—well at least Oprah does, so why can't we?  Many of today's trendy martini recipes call for lemon vodka. Luckily, Sukkot's unusual custom of sniffing a citrus fruit (etrog) lends itself perfectly to a holiday-inspired cocktail—the Sukkotini.  With a splash of pomegranate juice and a hit of etrog vodka or liqueur, the Sukkotini features the best flavors of fall, and Jewish tradition. Serve this drink under the stars in your beautiful backyard sukkah (or, if you live in Brooklyn like I do), in the sukkah your friend threw up in the shared cement courtyard outside his building.
Sukkotini
Tip: You can make your own etrog vodka (see Etrog Moonshine below), and enjoy your martini sometime around Chanukah.  If you need your cocktail NOW, buy some pre-made etrog liquor here.
Ingredients
4 oz Etrog Moonshine (or etrog liqueur)
1 oz fresh lemon juice
½ oz fresh pomegranate juice
2 oz simple syrup
Directions
Shake all ingredients well with ice and strain into a chilled martini glass.  Garnish with a twisted etrog peel and serve.
Etrog "Moonshine" (Adapted slightly from Food.com)
Ingredients
3 Etrogim
3 cups vodka
1 ½ cups confectioners sugar
Directions
Scrub your etrogim to remove all the pesticide residue—and the germs from where everyone held and sniffed it during the holiday. Peel the etrogim, avoiding the bitter white "pith." Put the peel in a 1-quart bottle with 2 cups vodka and close for a week.
Later, discard the peels. Add 1½ cups confectioners sugar and shake until dissolved. Add 1 more cup vodka and shake until clear. Close jar and store in a cool, dark place for at least 6 weeks.
(Image: Shutterstock)