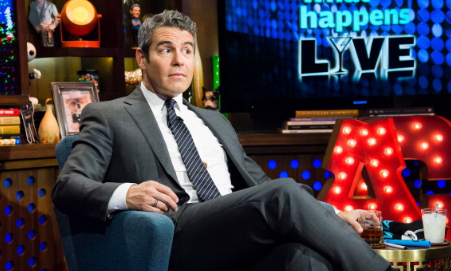 Without the ever-charming Andy Cohen, there would be no Real Housewives (well, there would be plenty of "real housewives," just not the over-indulged, jaded ones who hail from privileged communities countrywide and make up an iconic guilty-pleasure pocket of contemporary pop-culture). Cohen, largely responsible for the reality programming success of the Bravo network, will step down from his executive role to focus on his talk show and projects with his production company, Most Talkative, the New York Daily News reports.
Though Emmy-winning Cohen has developed many of the network's hit shows, The Real Housewives franchise set the stage for his talk show, Watch What Happens Live. In 2009, Cohen began hosting WWHL in a casual, conversational format, replete with alcohol, sexy guest bartenders, and Bravolebrities—a Cohen-ism that identifies the network's reality stars.
In time, the show extended to five nights a week, while still, Cohen maintained his executive role with the network and hosted all the reunion specials for The Real Housewives franchise. The idea to have a live talk show air show directly after a new episode quickly gave way to a trend in cable television, the New York Times reported. Cohen's production partner, Michael Davies, now produces talk shows of similar format for AMC like Talking Dead and Talking Bad after The Walking Dead and Breaking Bad.
Quickly, Cohen became a Bravolebrity himself. In 2012, Cohen's autobiographical memoir, Most Talkative—the same name as his production studio—became a New York Times best seller, and recently, WWHL has grown to garner big attention: Oprah, Cher, and Lady Gaga have all been guests in the past year. While it's unclear when the busy cable television renaissance man sleeps, he still makes time for his besties, like Anderson Cooper and Kelly Ripa! At a price though—during his tenure of working 'round the clock, Cohen has become noticeably grayer. As in, an almost identical yay-to-gray trajectory to Obama's first presidential term.
So, get some sleep, Andy. And mazel on your success!
(Photo by Bravo/Getty)