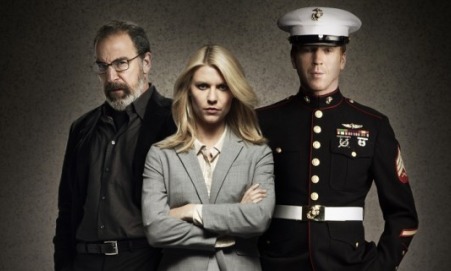 Last night's episode of Homeland, "One Last Time," accomplished the impossible: it weaved together many of the show's new plotlines, which were far less compelling when they stood alone.
Most satisfyingly, Dana Brody (Morgan Saylor) earned reprieve from her awful, season-long pity trip that made her universally unlikable. But more importantly, Saul (Mandy Patinkin) fetched a now drug-addicted Brody (Damian Lewis) from the Caracas slum in which he was being held to bring him stateside for rehab. In an exorcism-esque performance, we watch Brody go cold turkey in a timeframe so short, it could have killed him—or so says the CIA doctor. In light of his current pain, past demons, and bleak future, Brody wants to die. He tries to kill himself multiple times throughout the episode. After attempts at stabbing, drowning, and starving himself, Carrie (Claire Danes) talks some sense into him, getting him to listen to Saul.
What Saul wants is for Brody to reinstate in the Marines and kill Javadi's (Shaun Toub) boss, making Javadi one of the top three most powerful people in Iran. Obviously, the plan in a long shot— Brody would need to be healthy and agreeable in a short enough time for Saul to still have reigns on the agency. He still has to get to Iran and complete the mission before he himself gets killed, while Javadi still has to honor his agreement with Saul to remain aligned with America. And, Carrie, who was recently shot in the arm by a fellow agent, is, ahem, 13 weeks pregnant with Brody's baby so she's obviously trepidatious to accept Saul's orders, but she does anyway.
While transporting an ashy Brody through secret locations, their car randomly passes a slummy motel where Dana is walking between rooms as a housekeeper. In the tone of an evil Rocky Balboa, Brody screams for Dana from the backseat of the car. Suddenly, Brody remembers that he has a family—or at least a daughter (no one in the show has ever seemed to care at about little Chris Brody (Jackson Pace), the most annoying Boy Scout weenie to ever hit the screen). His contorted vision of Dana as "daddy's little girl" motivates Brody to cooperate with the CIA with a delusional hope that afterward he'd return to a normal life. After Brody transforms from Requiem for a Dream to Saving Private Ryan in just over two weeks (!), he convinces Carrie to let him visit Dana before he travels to Iran to, in all likelihood, die. Because of her steep deficit of maternal instinct and general emotional warmth, Carrie agrees— maybe she hopes that he'll be a "too little, too late" kind of parent to her secret bun in the oven as well. And, before Brody goes into the motel to see Dana, Carrie tells him about her hospitalization, suicide attempt, emancipation, and name change following the Langley bombing.
While Brody has to know that he was the force that drove Dana to attempt suicide, it apparently doesn't occur to him that his pop-in visit may have adverse effects on her stability. So in he goes and she very rightfully freaks out. Broken down to tears, but maintaining her ground, she offers to give him whatever he needs to leave her alone forever. She tells him that she forgives him and hands him a notepad to write down whatever he wants her to say that will make him feel vindicated. Brody leaves feeling no absolution from Dana, but he probably feels that he's leaving nothing behind no matter what happens in Iran. And, since Carrie doesn't tell him about the baby, it seems that Brody's only present purpose is to bring pain unto others. Plus, our future mother of the year is smoking a cigarette in the last scene, even though she doesn't smoke cigarettes. C'mon, Carrie!
Since Brody is more or less helpless and his only options are not choices of his own, Saul has absorbed a lot of Brody's first season anti-hero shtick. Are we rooting for him? It's unclear—especially when Brody tries to stab himself with the chair and Saul runs into the room to stop him. Brody flashes back to when Abu Nazir (Navid Negahban) saved him from a similar breaking point many years ago, when he was a prisoner of war. The overlay of the similar situations that unite Saul and the terrorist explain Saul's jarring shift in character, and growing theme of the show. Everyone has a personal agenda, and when the stakes get high, methods become ruthless and people remain selfish. Saul is tied to his goal—to put Javadi into Iranian power as an American force, which at this point, has become so much more than an exercise in national security. It's security to his personal identity and sense of self, and no one is too sacred to be safe from his master plan.
Previous: Season Three 'Homeland' Recap: 'A Red Wheelbarrow'