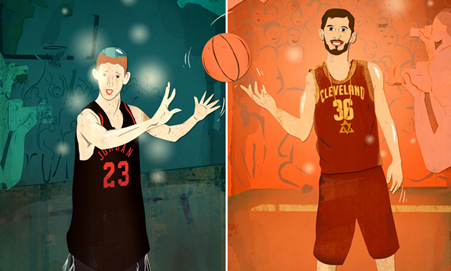 There's a great article today in Tablet Magazine about the epic rise and fall of Tamir Goodman, the high school basketball phenom nicknamed 'Jewish Jordan'—and his unlikely friendship with Omri Casspi, the first Israeli to play in the NBA. When Casspi was traded from the Sacramento Kings to the Cleveland Cavaliers, Goodman, who lives in Cleveland, brought over a mezuzah! How do you say 'bromance' in Hebrew?
The two bonded, it seems, not only over their shared faith—Casspi, who was raised in a secular Israeli home, has gotten more religious since getting drafted to the NBA in 2009—but also over their professional experiences. When Casspi struggled last season, he turned to Goodman for advice. If anyone knows how to deal with disappointments on the court, it's the former 'Jewish Jordan' himself, who retired from the sport at 27 and now happily coaches basketball camps for young Jewish kids.
From the article:
"Omri is the story of the underdog, the self-made man," says David Blatt, the coach of Maccabi Tel Aviv, who has worked with both athletes. And Goodman's is the story of how the weight of expectations can overwhelm a young athlete. "Even today the term 'Jewish Jordan' makes me cringe because it did such a disservice to him," Blatt says. Despite their different trajectories, however, Casspi and Goodman would discover they had more in common than they realized. They would share the same agent, Steven Heumann; the same team uniform, Maccabi Tel Aviv; and then, in 2011, the same Cleveland area code.
The Jewish Jordan Subs Out [Tablet Magazine] From the archives: Will There Ever Be a Jewish Jordan?
Why I'm Glad There Isn't A Jewish Tim Tebow