J-Teen and J-Serve Join Forces To Promote Literacy Among Kids And Teens
Two Jewish orgs. get together to promote increased access to books and literary skills for all kids and teens. Read More
By Repair the World / April 29, 2011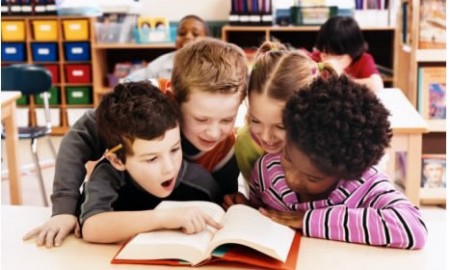 Jewcy loves trees! Please don't print!
This article originally appeared at Repair the World
Earlier this month, we published a story about J-Serve, the National Day of Service for Jewish Teens. So what did J-Serve look like on the ground? Here's one inspiring example:
J-Teen Leadership – a teen-founded and led volunteer organization in Westchester County, New York banded together with the Jewish Council of Yonkers-Westchester Community Partners and Yonkers Public Schools to create the Read and Romp Literacy Carnival.
The day-long carnival celebrated the love of reading, and promoted increased access to books and literary skills for all kids and teens. It featured activity booths with popular story book characters like Clifford the Big Red Dog, The Cat in the Hat and Curious George, and created opportunities for the teens to read to groups of children.
At the end of the event, each participating child was given several free books – which the teens had collected in their communities – to take home with them. The event was meaningful for the kids, but also for the participating J-Teen Leadership teens who were reminded that reading is a gift not to take for granted and one that, with a little effort and planning, can be shared with others.
J-Teen Leaderhship's literacy day was just one of many amazing examples of teens stepping up and making a difference for J-Serve. Check out more powerful examples on J-Serve's Facebook page. Find out more about J-Teen Leadership and how you can get involved at their website.