Avishai Yeganyahu Mekonen
Avishai Yeganyahu Mekonen's work draws out an assimilation narrative that many of us encounter as part of our own family history. He shows us a story of the Ethiopian Jewish community in contemporary Israel, where culture, race, and religion make … Read More
By Rebecca Guber / February 5, 2009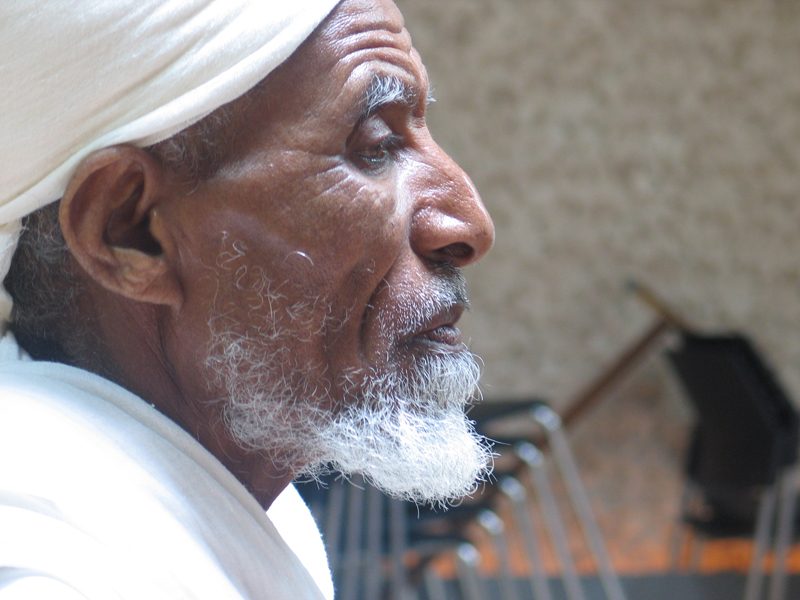 Avishai Yeganyahu Mekonen's work draws out an assimilation narrative that many of us encounter as part of our own family history. He shows us a story of the Ethiopian Jewish community in contemporary Israel, where culture, race, and religion make things infinitely more complicated. His work is a series of portraits and videos of the elders and the younger generation, seen through the prism of the ancient tradition of counting back seven generations to name ancestors. This tradition, the Amharic language, and other Ethiopian religious and cultural rituals are being lost, while the younger generation has taken on hip-hop, Hebrew, and the trappings of pop culture. It's not a new story, but Avishai has captured the turning point in this culture through photography and video, and gives us a look at an important historical moment. I've been working with Avishai for the past few years as part of the Six Points Fellowship, and I encourage you to check out the photos, read the stories, and see more at his show opening Feb. 12 at the JCC in Manhattan.
Name:    Avishai Yeganyahu Mekonen
Birthday: August 12
Hometown:   NYC
Marital status:  Married to Shari Rothfarb Mekonen
Upcoming Projects or Shows:  "Seven Generations" (photography & video project) show upcoming at the JCC in Manhattan, February 12- April 30, 2009;
and 400 Miles to Freedom (documentary-in-progress)
Links: www.avishaimekonen.com, www.fourhundredmilestofreedom.com,
Favorite Israeli food:  Shakshuka
Favorite body of water: Lake Kinneret, Hagalil
Last movie you saw:  Gran Torino

Why inspired you to start this project? 
One of the main problems in our community is the issue of representation, in that Ethiopian Jews are often represented in ways that are considered negative, inaccurate, and rarely, if ever, from an Ethiopian point of view. My goal is to offer an alternative view into our culture, to honor our past and to preserve an endangered part of our history while acknowledging the effects of assimilation. I also saw that I was somehow in between two ranges of the younger generation, who, at the youngest, do not speak Amharic. This language barrier is significant and has consequences that were not necessarily anticipated as part of our transition to Israeli life and culture. The fact that I speak Amharic made a huge difference in relating to and understanding the elder generation, who came to Israel as adults, many later in life. There is a huge gap. On another level, as someone new to the U.S., I was fascinated to see how this disconnect between generations of immigrants is of course a universal experience, when people pick up their lives and move to an entirely different world.

How does this project relate to your other work?  
Since I received my degree in filmmaking in Israel, I have been exploring questions of identity, heritage, and assimilation in the Ethiopian Israeli community in several videos that I directed, for example Video Flour, a documentary about two young stand-up Ethiopian comics in Israel, Yossi Wassa and Shmuel Beru, which was braodcast on Israel's Channel 1 and went on to various festivals. It's great to see Yossi and Shmuel's current projects, our generation is starting to try to make sense of our cultural differences through our art.
My current documentary film, 400 Miles to Freedom, explores my personal life journey and identity – connecting what happened to me as a boy during the year-long journey out of Ethiopia and into Sudan to my experiences both in Israel an in the U.S. of having my identity as a black Jew challenged, which leads to my current process of overcoming both together. I have deep investment personally in both projects, and while they are really two separate projects, they share common themes of family, cultural changes due to assimilation, and affirmation of identity.
In some ways this project is all about families, how has your family been involved or felt about the project? 
My family in Israel, especially my parents, were crucial in getting "Seven Generations" produced. The people represented in this project, especially the elders of the Ethiopian community in Israel, are part of a community that is a tightly knit network. My parents are an integral part of it, and so they helped introduce me to many people in towns across Israel, extended family and many others. My parents love this project because they have been experiencing first hand how the customs that they brought over with them from Ethiopia are dying out, and so they are pleased to be involved in preserving awareness about our heritage. And this rings true on a personal level with them as well, since I think this is the first time they understand what I do as a filmmaker and photographer – again, something that reflects cultural differences between the generations. My parents really helped produce this project – my mother cooked traditional food for me to bring to interviews and photo shoots, and my father spent a lot of time on the phone connecting me to different families and arranging meetings. For example, he connected me to Yeshinech Worrede, the wedding masinqo player and singer who is featured in the project.

You are exploring assimilation, how do you think the Ethiopian community in Israel has a unique story?   
Many of the elements of our story are familiar immigrant experiences, but I would say that the combination of all of them together makes it unique. For example, there is the language difference; the shock of leaving our rural African villages, to experiencing difficult journeys to Israel, to adapting to the Israeli hi-tech culture; and the religious freedom – we went from being a religious minority to being a racial minority. Our story is also a story of aliyah, we returned to the ancient land of our heritage, a dream of return that my forbearers spoke of for over 2,500 years.

How do you see music as another metaphor for this community transformation?
I was excited to see how this unfolded during the making of this project – it became clear that music and song played such a strong role in symbolizing the expressions of both sides of the generation gap. We have the wedding singer on one side, with his traditional Masinqo (one-string violin) from Ethiopia, and on the other these young kids in their teens and twenties who are taking American rap music as their model.
What are some of the personal stories that have stuck with you?  
I have been very saddened by the passing of some of the elders who appear in the photos and who I came to know, especially Ftugu Mahari, who shared his life story with me before he died in 2007, from how he grew up as a farmer in Ethiopia to his life as an honored elder. I am also amazed at how so many of these elders are able to tell their oral histories so well, going back sometimes 14 generations. As Shai Ferdu says in one of the videos, their heads are like computers, they remember thousands of names, who they are, what they do, who they're related to, where they live, all of it. Another leader of the community is Enyo Tarrege, the 75-year-old "motherboard" who tirelessly has been working to record all of the community's oral histories before the elders die. He's also a 14th generation descendant of  King Gideon, a Jewish king of Ethiopia.
How do you think this presents a different picture of the Ethiopian Jewish community than has been shown in the past?
Probably one of the main differences is that the project talks about immigration issues from our points of view. Because the show also involves presentations with audiences, both at the JCC and at other venues (for example, I am presenting the project next week in Savannah to both Jewish and non-Jewish audiences) I am able to have an in-person dialogue with diverse audiences about the project.
What has surprised you about creating this work, what have been some of the challenges, and what have you learned?
I have been surprised at the extent of the disconnect between the generations. In terms of challenges, it's pretty challenging to produce a project from New York that takes place in Israel, staying up until two or three in the morning to call certain offices there where it's seven hours ahead, making all the arrangements from afar, and the expenses involved. I also joke about people being on "Ethiopian time," which refers to the different Ethiopian calendar (13 months), and also to that change from rural to urban life – it's not unusual for some members of my community to arrive at a meeting two, three hours late, and that is the norm.
What do you see as the future of the Ethiopian community in Israel?
I hope that Amharic can be a common language offered in school, alongside Arabic, English, Russian, French, and others.