Good for the Jews Tour Diary: Clap Your Hands Say Hanukkah
Fourteen shows and fifteen sets in thirteen cities over eighteen nights. That's the exciting way I'll be spending Hanukkah and Christmas, on tour with my band, Good For The Jews. All thirteen cities have been carefully chosen … Read More
By Rob Tannenbaum / December 7, 2007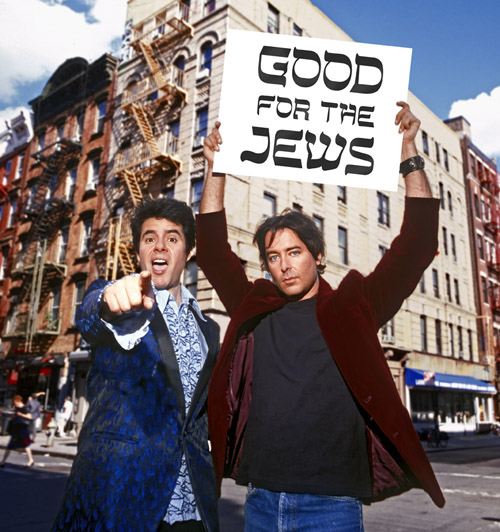 Fourteen shows and fifteen sets in thirteen cities over eighteen nights. That's the exciting way I'll be spending Hanukkah and Christmas, on tour with my band, Good For The Jews. All thirteen cities have been carefully chosen for their large populations of Jews. Even, in the case of Boca Raton, if those populations are mostly close to death.
By the way, "band" is a grandiose phrase to use here. Good For The Jews is me, Rob Tannenbaum, and David Fagin. We both sing, David plays guitar. (I tried to learn once; I didn't care for the calluses.) I do the P.R., David books the travel; I keep track of the merchandise, David drives. He wears driving gloves in the car and usually drives too fast. When we planned the tour, we budgeted for five speeding tickets.
We are, however, proudly, the greatest Jewish music-comedy duo in the land. For a long time, it was difficult to explain what we do onstage. "You sing? But you also tell jokes?" Yes. So we'd describe ourselves as a cross between Simon & Garfunkel and Martin & Lewis. BLANK STARES. Then we'd say we were like Tenacious D, but thinner and without a movie deal. BLANK STARES. Now, we just say we're like Flight Of The Conchords, but without the cute accents or the HBO deal.
We have songs about the holidays ("It's Good To Be A Jew At Christmas," "They Tried To Kill Us, We Survived, Let's Eat"), songs about visiting the parents ("Going Down To Boca"), songs about being Bar Mitzvahed ("Today I Am A Man"), songs about people we like ("Hot Jewish Chicks") and also people we don't like ("Jews For Jesus").
This tour, these thirteen cities in eighteen days: Okay, it's not Sherman's March to the Sea (which transpired at roughly the same time of year, though Savannah has a nicer climate in December than Milwaukee does), or Stalin's winter offensive (no one will be firing Panzerfausts at us, not even in Milwaukee). But that's a lot of rental cars, a lot of airline connections, many opportunities for things to go wrong. We play L.A. on December 14th (our agent, Morey, says there are many Jews in L.A.), then the next morning we fly to Denver for a show on the 15th. Think there might be some snow on the ground in Colorado, delaying our flight? The risk with rock tours isn't that they turn into This Is Spinal Tap—that would be great. The risk is that they turn into Planes, Trains and Automobiles.
Mentioning Spinal Tap reminds me of the scene where Harry Shearer shouts "Hello, Cleveland!" while the band is in Chicago. Funny, because it's true. (Though not as funny as when Tony Hendra, the band's manager, says, "Do you know what I do? I prise the rent out of the local Hebrews." Also true.) We can't be the 800th band to shout "Hello, Cleveland" when the tour starts there on Thursday night. What are the alternatives? "Shalom, Cleveland"? "Hello, Shaker Heights"?
I've got a little O.C.D., so packing for the tour has taken a lot of time: eighteen pairs of boxers, eighteen pairs of socks, some road flares, a tourniquet, warm gloves, a mosquito net, Purell, Iodine tablets, a rectal thermometer, some Mebendazole. Touring means meeting people, and meeting people means germs. Taking $20 bills from them when they gratefully buy your CD. Shaking their hands when they thank you for an amazing 80 minutes of entertainment. Deep-kissing them while they complain about their lousy experiences on J-Date. And germs, of course, mean influenza, which can really spoil a tour.
I realize how many home comforts I'm leaving behind. I'll miss my wi-fi connectivity. I'll miss having the Times delivered every morning. I'll miss my memory foam mattress and contoured pillow. I'll miss my Toto Washlet C100. I'll miss my warm-mist humidifier, which doesn't fit into my carry-on luggage. Life on tour can be very unsatisfying, as anyone who's listened to an Allman Brothers song already knows. As I await my car service to LaGuardia, I have in mind the words of Leonard Cohen, who said that Jews are "the professionals in suffering." He also wrote these lines: "Is there anything emptier / than the drawer where/ you used to store your opium?" I'm hoping for more opium, less suffering.
[Read the entire Good for the Jews Tour Diary here.]