Indiana Jones And The Sweaty Leather Jacket
Indiana Jones and the Kingdom of the Crystal Skull hits theaters in May, and the new Vanity Fair has a long, oddly bloggy article about how very rough it's been for George Lucas and Steven Spielberg, two of the highest-grossing … Read More
By Emily Gould / January 10, 2008
Indiana Jones and the Kingdom of the Crystal Skull hits theaters in May, and the new Vanity Fair has a long, oddly bloggy article about how very rough it's been for George Lucas and Steven Spielberg, two of the highest-grossing filmmakers of all time, to make the first Indiana Jones movie since 1989's Last Crusade. Yes, it's been a long, trying process for filmmakers and stars alike — Harrison Ford, at 65, says he had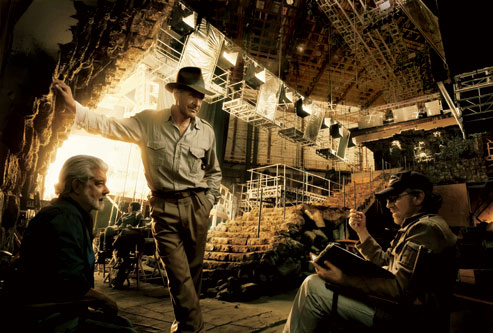 trouble getting back into Indy's psyche, not to mention his uncomfortable outfit. "It's a very bizarre costume, when you think about it … It's this guy sporting a whip, who's off usually for someplace really hot in his leather jacket."  Also, they're pretty sure everyone's gonna pan the movie: Lucas says he knows the critics "already hate it. So there's nothing we can do about that."
Crystal Skull is set in 1957, so the villians are now Russians instead of Nazis. But — nerdgasm alert!– the film might also feature a more exotic breed of bad guy.
  "No one outside of the filmmakers will know for sure until May 22, but it would be pretty cool if it turns out that Emperor Palpatine had dropped a crystal skull on Earth. Or maybe one was left behind by the skinny dudes from Close Encounters of the Third Kind. Or maybe it's, like, E.T.'s cell phone. :)"
Star Wars meets Indiana Jones! Also, emoticons meet Vanity Fair! Weirdness.