Jamie Diamond
Holiday angst is one part social anxiety, one part overeating, and a large dose of family neurosis. In the midst of this moment, I've been captured by the work of artist Jamie Diamond. Her work, thankfully, takes us outside of … Read More
By Rebecca Guber / December 19, 2008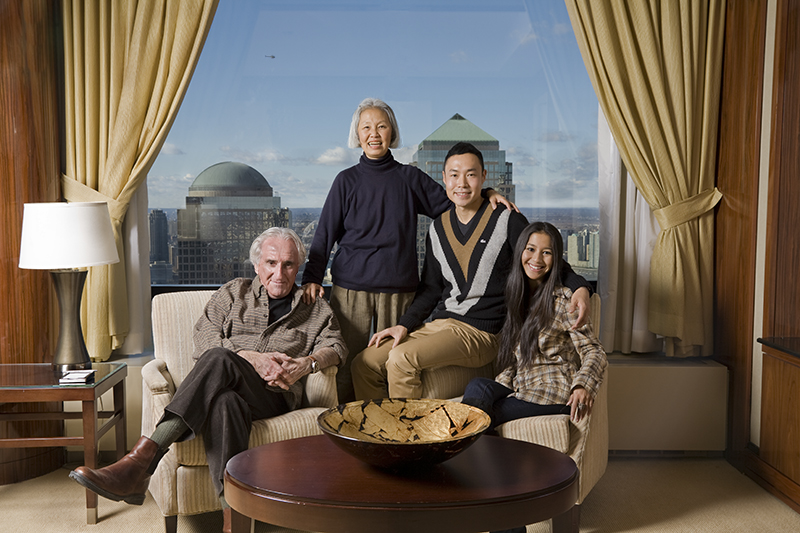 Holiday angst is one part social anxiety, one part overeating, and a large dose of family neurosis. In the midst of this moment, I've been captured by the work of artist Jamie Diamond. Her work, thankfully, takes us outside of our own familial eccentricities to examine larger societal expectations of family and our performance within those structures. In "Constructed Family Portraits," she solicited strangers and friends, assembled them into groups, and shot portraits in hotel rooms. The photographs, which feel simultaneously familiar and alien, expose our own expectations of what a family is supposed to look like, and how we read our own lives into their image. In the other series we discuss, she investigates a particular familiar role, the Mother, and documents her performance of the actions and work of motherhood. But look carefully, as these images expect and demand a longer look, and a considered evaluation of our assumptions about how we relate to family dynamics. If you want to see more of her work, check out her new show at the Moeller Snow Gallery, and of course, bring the whole family.
Name: Jamie Diamond
Birthday: 04.24.1983
Hometown: Old Westbury, NY
Marital status: Significant other
Upcoming Projects or Shows: Solo Exhibition December 11th at Moeller Snow Gallery. (www.moellersnow.com)
Links: www.jamiegdiamond.com
Favorite song: I don't have a favorite, but right now I love to listen to Erik Satie while I work.
Favorite condiment: I don't have one
Favorite childhood toy: American Doll Collection (Samantha, Molly and Felicity)

Do you see yourself as a photographer? Or are the photographs the documentation of the actions?
Whenever people ask me if I am a photographer I say no, I see myself as an artist who uses photography in my work. The photographs are performances in themselves but also autonomous images commenting on the genre of family portraiture, critiquing the medium of photography and challenging our perception as viewers.

How did you start working on conceptual projects?
I always considered art a hobby of mine, but never thought I'd pursue it professionally until I was at University and took my first 3-D foundations class. That was my first introduction to conceptual art and from that day on I knew I would devote my life to ideas.

Your projects seem to be generally investigating social and family structures, what draws you to these topics?
My own family has really been the impetus behind most of my work. I received a lot of criticism during my first year of grad school. I thought I was producing great work, but apparently no one else did. The ideas embedded in the work were not translating to the viewer and I think I was too close to the work to fully understand how to combat that. At the end of my first semester, I became frustrated that I wasn't getting the message across. Sorting through my old photographs I found an old formal family portrait from 1996 that somehow seemed to capture very clearly what it was that I was trying to say, so I blew it up to a life size scale. That next semester when the critics entered my studio, everyone assumed I had dressed actors in matching wigs, over sized glasses, tons of make-up and posed with them, but this was my family.
What interests you in creating situations with strangers, and how do those social interactions impact the work?
Creating these social experiments fascinates me and enables me to connect to a world that I would ordinarily walk right pass. Part of the beauty of the work for me lies in its organic nature. If the father doesn't show up, it is a single parent family. I don't like to dictate too much to the subjects, relying on them to play themselves in this familiar unfamiliar context.

I can't stop looking at the "Constructed Family Portraits," although I know these people aren't related, my eye sees resemblances and reads it as a family. Is this a similar reaction of other viewers?
Absolutely. I think it has something to do with our photographic conditioning. We know what to expect when we see a family portrait, and aren't prepared to be deceived. We are pre-programmed through a lifetime of exposure and tend not to analyze beyond the surface because of that. I love the associations you make when looking at these portraits especially knowing that all of these people are strangers.
In the "I Promise to be a Good Mother" images, you approach the concept of the family structure from another perspective, can you talk about that series and how it relates to Constructed Family Portraits?
I actually began "I Promise to be a Good Mother" first and that informed the "Constructed Family Portrait Series." It evolved slowly and I was very much interested in this mother character I was exploring. For months I was dressing up and interacting with Annabelle my doll, taking her to the park, the movies, food shopping, the beach… doing all the good things mothers do. The work was very personal in that I was addressing my own fears associated with motherhood and I began "practicing" what a mother should be like and look like. As a girl I kept a diary of my relationship with my mother as a kind of rule sheet for later life, titled, "I Promise to be a Good Mother."
What other artists do you find particularly engaging and how do you think their work relates to what you're thinking about?
I have always admired the work of Sophie Calle. I remember so clearly when I saw her show at the Pompidou in Paris. This was the first photographer I really connected to; she seemed so brave to me, so willing to let the viewer in. Somehow she was living a life through her art and I found her fascinating. I saw in her work a curiosity for the other that I connect with, creating situations out of the ordinary moments in life and most importantly this was one of the first times I saw an artist successfully integrate this into their work.
What project are you working on now?
I have begun a new series called "The Bride," where I ask women who are, or have been married to re-wear their wedding dress and pose for a portrait. For so many women the most important dress they 'll ever wear is only worn once, and then packed away to grow ever tighter and only revisited in memory or on film. While working on the family portraits I became fascinated by the awkward sense of transience to most hotel rooms, the temporary standard fit reality that never really feels like the real thing. For the bride series I began constructing my own backdrops, using nostalgic floral prints and patterns on wallpapers and curtains to recreate that not quite reality of the hotel room. I hope to encourage a few brides before consummating the series with my own faux wedding in central park.