Stacy Mehrfar
Stacy Mehrfar's work is all about a sense of place, from the wide angle loneliness of the anonymous suburban landscape, to the particularity of the Iranian Jewish community in Great Neck, Long Island. Her photographs seem to be so perfectly … Read More
By Rebecca Guber / December 11, 2008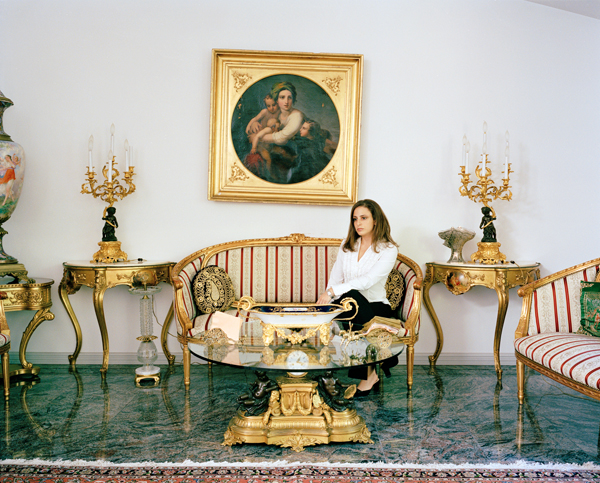 Stacy Mehrfar's work is all about a sense of place, from the wide angle loneliness of the anonymous suburban landscape, to the particularity of the Iranian Jewish community in Great Neck, Long Island. Her photographs seem to be so perfectly attuned to the contemporary conversation around the sub-prime mortgage crisis, and presage the sense of desperation that now surrounds the exurbs she documents. As Stacy shares her own personal narrative of growing up within the unique world of Iranian Jews in suburban New York, we zoom in on the unique human details that define each individual community. She began creating the photographs of this community as her personal and artistic perspective shifted when she moved to another continent. There is actually some kind of Jewish diasporic logic to a Persian-American Jew living in Australia who is exploring the notion of dislocation.  
Name: Stacy Arezou Mehrfar
Birthday: Oct 11, 1977
Hometown: Port Washington, NY
Marital status: Married
Upcoming Projects or Shows: Photographing the Persians of Great Neck.  Photographing Australian suburbia.  Photographing myself.
Links: www.stacymehrfar.com
Favorite childhood memory: I would spend hours upon hours, days upon days dissecting my family photo albums. I imagined stories about each photograph- especially the ones that were created before I was born.
How do you feel about Obama: Inspired
Favorite useless celebrity: Brangelina
What is the type of imagery that attracts you and your camera?
Color attracts me. Spaces that relay narratives attract my camera.
Did you grow up in the suburbs – how does your personal perspective drive the work?
I am a first generation Iranian-American Jew born and raised in a small suburb of New York City. Most of my friends growing up were American – from families that had been living in the States for generations. Because of where I lived, where I was born, and the fact that my friends' families were not like mine – I had always considered what it meant to be "American."
My work is greatly inspired by my own experience growing up in a home that hardly resembled my friends' homes. In CONTAINED, I used the house I grew up in as a metaphor for my own identity and the clash between my American existence and Iranian upbringing. When I first started American Palimpsests, I was fascinated by new suburban development – I wondered what it would feel like to live in a home that looked exactly the same as every other one on the block and I began to question how these spaces collectively defined American identity.
How do you think about your work within the tradition of Landscape Photography?
My work is to the history of landscape photography as Indie film is to Hollywood. I've tried to step away from the mold in order to start a new conversation on a long-standing tradition.
I am obsessed with Stephen Shore's "Uncommon Places." Many have said that my work resembles that of Joel Sternfeld's too. I never really involved myself too much with his work, but I can see now what they mean. I haven't set out to make work like theirs, but rather to take some of their ideas and push them into a new dialogue.
What project are you working on now?
I am currently seeking a book publisher for This Was What There Was: American Palimpsests. I have recently started a new project about the Iranian Jewish Community in Great Neck. And as always, I'm making self-portraits that deal with my real life.
Your work seems to be deeply entrenched in American suburbia, what are you doing in Sydney?
The New York Times  did a video piece about how I came to live in Sydney. My work is about place – until now that place has been American suburbia and Manhattan. Today my work is about dislocation. I am far from that which I know. I am exploring a new land, at the same time also marking my past. My latest project on the Iranian Jews of Great Neck is, in a way, a homage to that culture which I left behind.
Okay, got it, love took you to Australia. Can you talk a bit more about the way that displacement is shaping your work? Is there a different quality to it than the displacement that your family may have felt leaving Iran for America?
Since I've moved to Sydney I have felt a strong sense of longing for my Persian heritage – ironically I didn't feel at all connected to the community growing up.  Now that I am living in a country very far from home, I've realized how special and valuable and odd such a community is. I miss the scents, the sounds, the colors, the textures, the language, the music, and the food. Photographing the Persians of Great Neck has a different meaning for me now that I'm living in Australia. I am nostalgic for a community I never really realized I was a part of.
I think my parents felt a similar sense of dislocation, however, many other Iranians were moving to NY at the same time they were – so they had friends in the same situation. Now some 40 years later, they live in a community of thousands of other Persian Jews. 
What is it that you see as so different in the Iranian Jewish community in Long Island, and how are you exploring that in the new project?
When you drive through Great Neck early on a Friday evening, you can smell the scents of freshly cooked Persian food in the air. It is uncanny; I've never experienced anything like it in the States before – and I've traveled through many suburbs. I think the first time I experienced that was when I realized that I needed to make a project about this community. Most Americans (and Australians for that matter) don't realize that it is possible to be both Jewish and Iranian – so the fact that there is such a strong community living in America is surprising. One of my motivations for doing this project is to inform people of this rich community.  With the focus of the war on terror turning towards Iran and its anti-Israel policy, this is an important time to record it. I plan to create a multi-media exhibition – in order to allow me to explore the sounds and scents of the culture, in addition to documenting the community through photography.
You mention self-portraits, can you talk about what interests you about turning the camera towards yourself. What are the recent self-portraits like?
Sometimes I create self-portraits to help me to express an emotion, sometimes they help me to find closure in a moment, and sometimes they are just for fun – to bring out an ulterior personality. They help me to answer many of my personal questions.
I use them to reflect on my past as well as my present.
Do you feel like you've come up with any conclusions about how suburban spaces are defining American identity? Or maybe new questions that have arisen?
The beginning of this decade saw a housing boom in the US; we left old communities behind to build new ones on new lands. Today we are facing the effects of the sub-prime mortgage crisis. Many of the new communities I photographed for American Palimpsests now lie empty, with their development left incomplete. Based on the current state of older American suburbs, I wonder what will become of those empty new suburbs in 30 years time.