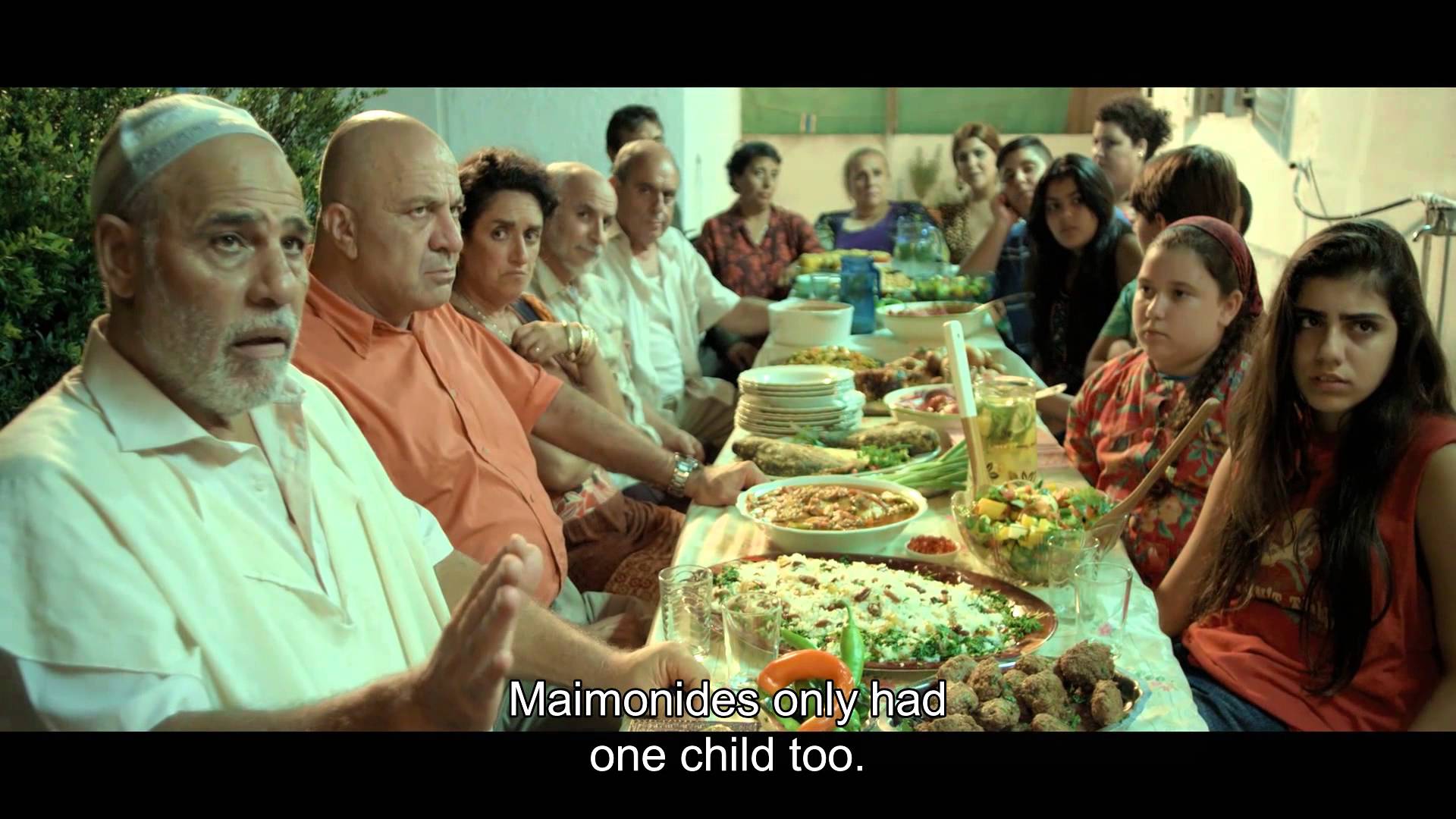 From June 2nd-June 9th, the JCC Manhattan presents the Israel Film Center Festival, showcasing the best new films coming out of Israel. Jewcy had the chance to screen three of these films, all of which represent defining elements of Israeli cinema. And yet, they also have much more in common than you might expect.
Baba Joon, from director Yuval Delshad, took home the coveted Ophir Award for Best Picture, Israel's version of the Oscars. That's especially notable since it is the first Persian-language film to win that trophy. Its story of an Iranian-Israeli family whose turkey farmer father puts enormous pressure on his thirteen-year-old son to follow him in his line of work addresses the different responses each generation has to society and its privileges. American audiences will recognize Navid Negahban, who plays the stern, unflinching Yitzhak, from his role on Homeland as terrorist Abu Nazir. Yitzhak may be stubborn, but his worst crime is not letting his son be the person he wants to be.
The Kind Words, from director Shemi Zarhin, competed with Baba Joon at the Ophir Awards, contending in eleven categories. It introduces three adult siblings who begin to question everything they know when their mother gets sick and they realize that she was keeping major secrets from them. Rotem Zissman-Cohen is the standout as pessimistic daughter Dorona, and veteran Israeli actor Sasson Gabai is typically strong as the siblings' absent father who comes back into the picture even though his children want nothing to do with him.
Encirclements, from director Lee Gilat, wasn't up for any Ophir Awards, but it's certainly deserving of classification with the other two films. Known in Hebrew as Hakafot, this endearing film follows Aharon, who is selected for the honor of carrying the Torah on Simchat Torah but has to contend with his destructive father Bezalel (played by Walk on Water and Footnote star Lior Ashkenazi). Young Agam Ozalvo is terrific as Aharon, and celebrated actress Assi Levy turns in a heartfelt performance as Aharon's mother, Rosa.
All three of these films feature fathers who think they know what they want for their children. Yitzhak has to deal with the influence of his own live-in father, who would beat him when he talked back, and his disapproval of his son's enthusiasm for building cars over tending turkeys is amplified exponentially by his own father's old-fashioned worldview. Bezalel is handicapped by a permanent devastation about his wife's six miscarriages, leaving him with just one son who couldn't possibly make him happy enough. Gabai's character, who is known simply as The Father, completely abandoned his family years earlier and is the rightful target of disdain from the children who have long since lost faith in him.
The most poignant characteristic of these three films is their representation of Judaism in Israel. They capture a sense of knowledgeable secularism, where everyone knows the customs and the laws, though most observe only when within a synagogue or in the presence of more zealous elders. Both Yitzhak and Bezalel enter the sanctuary and only then put on their kippot, and they rarely interact with Judaism except when it is forced upon them. In The Kind Words, Roy Assaf plays brother Netanel, the religious sibling who is accosted by his disapproving sister and gay brother for wearing a costume necessitated by his Brooklyn-born wife. That particular trope is frequently found in nearly every movie about Jewish observance, representing a constant struggle between devotion and assimilation that apparently exists even in the Jewish state.
What unites the Judaism of these films, particularly Baba Joon and Encirclements, is the emphasis on important moments that take place within the walls of the synagogue. Yitzhak and his brother have meaningful conversations while covered by a tallit during the priestly blessing, a holy moment that for them provides a place for contemplation and self-improvement. Honors are auctioned off on Shabbat, and in Encirclements, the young students share words of Torah to earn the privilege of carrying the sacred scroll. The concept of the hakafot invokes power and spirituality, something not always present in American synagogues where festive dancing takes over and, in the case of this Jewcy reporter from the Boston area, one hakafah was reserved for people who really, really hated the Yankees.
Thanks to the nature of Hebrew as the language of Israel, the familiar song Mipi Eil, frequently sung by American youth groups on Shabbat, is the marching chant of a group of students eagerly marching towards a standoff between two pupils to determine who knows more Torah. Such things are extremely fitting for a film festival about Israel in America.
Check out these films and more this week at the JCC Manhattan.