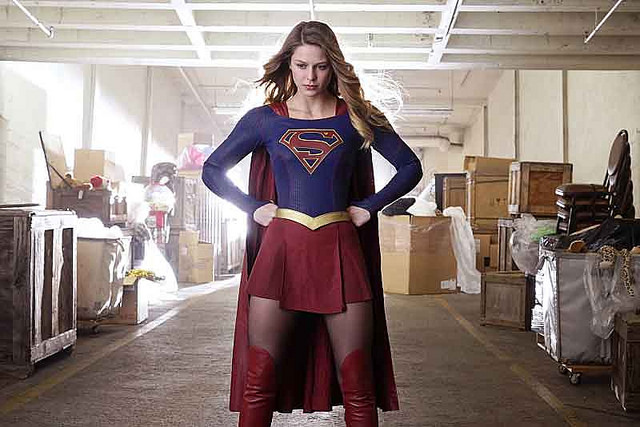 How do you take a superhero TV show and make it even more epic? Add a crossover episode and musical numbers penned by Hollywood's best, brightest, and funniest, of course. On March 21, the CW will air a Flash/Supergirl crossover, "Duet." The special will feature a song by our favorite Jewish, feminist powerhouse Rachel Bloom, who writes and stars in Crazy Ex-Girlfriend (also on the CW). Benj Pasek and Justin Paul, the increasingly lauded songwriting team behind Dear Evan Hansen and La La Land, are also contributing a tune (Pasek is Jewish; Paul isn't). (The musical premise will be set up in Supergirl's March 20 installment.)
"I immediately offered them [executive producers Greg Berlanti and Andrew Kreisberg] my services," Bloom wrote in a statement released to Buzzfeed News. "As soon as they picked one of my song ideas, I hopped on the phone with my old Robot Chicken boss Tom Root and we brainstormed and, based on that brainstorm, I wrote up the song 'Super Friend.' I am so excited to contribute more to the upward trend that is musicals in television and film. Music can be one of the most amazing and efficient forms of storytelling and character development. Also, it was really fun to write a comedy song for two superheroes."
Said superheroes singing Bloom's song will be Grant Gustin as the Flash and Melissa Benoist as Supergirl, while Gustin alone will perform Pasek and Paul's "Runnin' Home to You." Both actors have backgrounds in theatre and proved their vocal chops on Glee.  Fellow Glee cast member Darren Criss will co-star as the nefarious song-and-dance mastermind Music Meister.
While it's not likely that "Duet" will share Crazy Ex's Jewish flavor, we can at least anticipate that Bloom's contribution will feature her delightfully oddball comic verve. But who knows? Even her YouTube hit "You Can Touch My Boobies" had a Semitic twist:
Zoe Miller is Tablet's editorial intern. Follow her on Twitter here.
Image via Flickr.