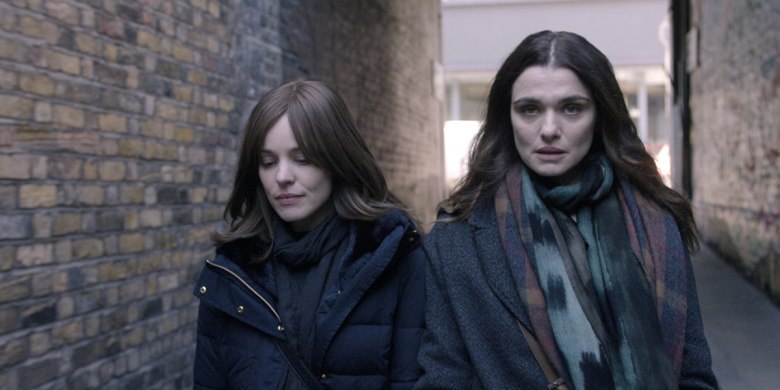 Get ready; soon, you're going to be hearing a lot about Disobedience, a new movie starring two Rachels: Weisz, and McAdams.
Disobedience is about an off-the-Derekh daughter of a prominent London rabbi (played by Weisz, who is also a producer) who returns home after her father's death. There, she encounters two childhood friends, one of whom is now the rabbi's presumed successor (Alessandro Nivola), and the other of whom (played by McAdams) is his wife. But the two women have a shared history; they were caught kissing once as teenagers. Is it only a matter of time before these two women give in to renewed passion and rekindle their youthful affair? Spoiler: Yes, and apparently it's super sexy.
The film only just had its world premiere, this past weekend at the Toronto Film Festival. It doesn't have its U.K. release (no word if that will include the U.S.) until May, but in the last few days early critics have overall very positive things to say about the film, including promising nuance for Jewish audiences who could perhaps be wary of yet another onscreen narrative of repressive Orthodoxy.
Says David Ehrlich of IndieWire:
Sebastián Lelio's "Disobedience" is a beautiful, fraught, and emotionally nuanced drama that wrestles with hard questions about the tension between the life we're born into and the one we choose for ourselves.
David Rooney of The Hollywood Reporter:
Lelio rigorously eschews melodrama in all this, most crucially in his nuanced treatment of Esti, played by a thoroughly deglamorized McAdams with acute sensitivity.
And, compellingly, writes Jada Yuan of Variety:
I cannot emphasize how respectful and immersive a portrait this movie is, considering that only a portion of the main creative team is Jewish. (Weisz, who's a producer, and Nivola both come from families who escaped the Nazis — though it does take a while to buy any of these movie stars as leading simple lives of piety.) This isn't a cliché indictment of religious insularity, or the tale of a wife escaping her controlling husband or loveless marriage. Instead, it is simply the story of the many forms love can take, and the way that hard choices between who you are and what you know can stand in the way of its fulfillment.
The film is based on the 2006 novel of the same name by Naomi Alderman, which was a finalist for both the Sami Rohr Prize for Jewish Literature and a National Jewish Book Award for Fiction. The director of this film is Chilean filmmaker Sebastián Lelio, also adapting the screenplay with Rebecca Lenkiewicz.
And so, get ready. If this is the first you've heard of this movie, it's not going to be the last.
Still from Disobedience.