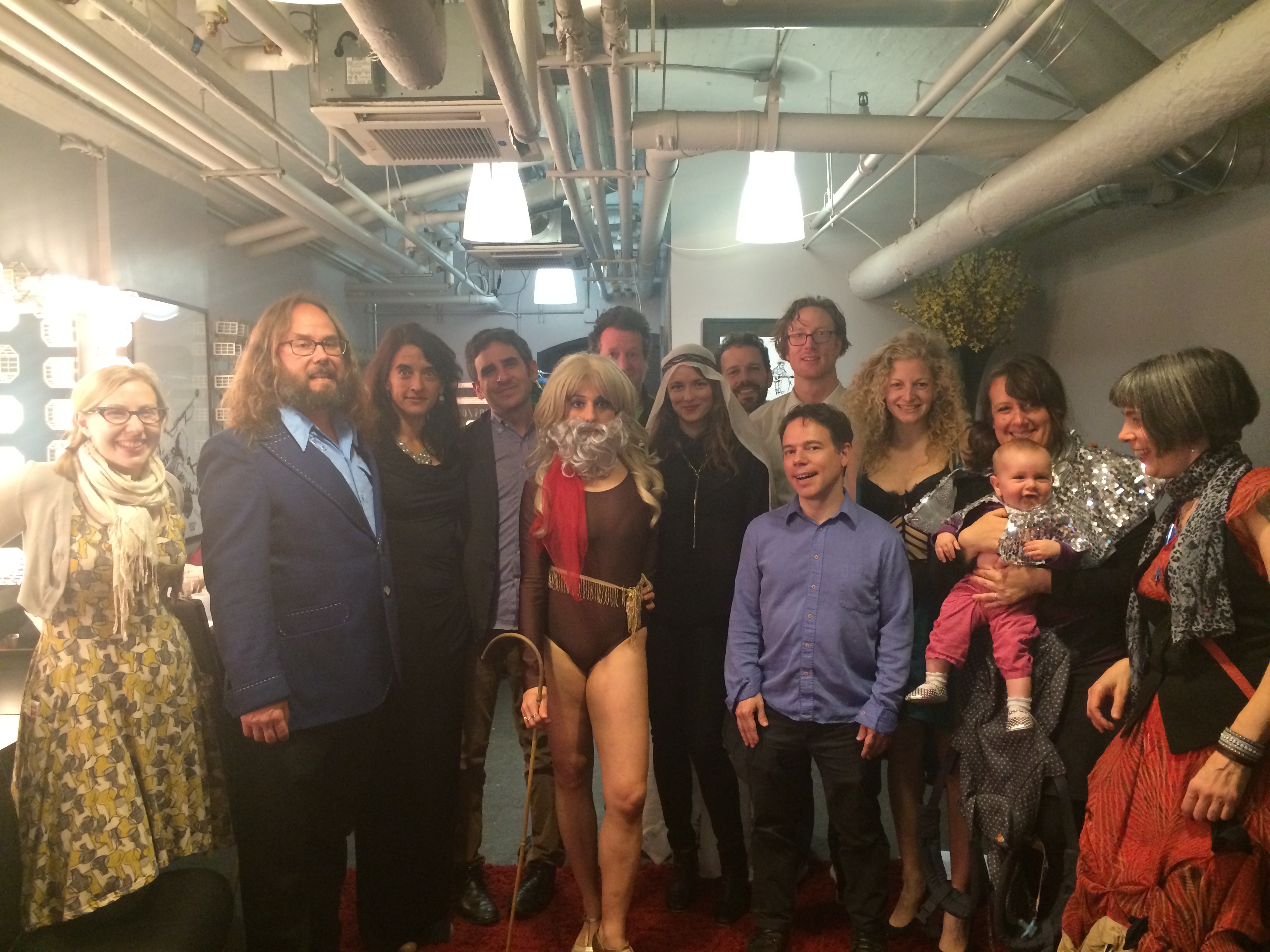 Sometimes you have to celebrate Passover with metal songs, sexy Moseses, and thoughtful musical pieces about cephalopods.
Such was par for the course at "The Seder-Songwriter Project," the third of its kind, which took place at Joe's Pub in Manhattan last night.
Hosted by the band The Universal Thump (you may remember them from their music video "Seder-Masochistic"), the evening invited musical artists, both Jewish and not, to present an original song based on the holiday or story of the Exodus. Beyond that, anything goes, and anything went. There were songs about everything from smiting the Egyptians from God's point of view to a fictional Fifth Child following the Four Sons, all emceed by a sexy, leotard-clad, Australian Moses (played by performer Anna Copa Cabanna).
Broadly speaking, the numbers were about one of two topics: The Exodus narrative, and modern Passover celebrations. As for the latter, if you were an outsider at the performance, you might assume that Jews all hate our religion.
Sure, there was nuance in the complaining, from a number by David Nagler where a miserable family seder arouses nostalgia years later, to a shout-out to other, arguably more fun holidays in "Haggadah Get Out of Here" (with Deb Adler Poppel). But few performers sang with the same affection of Passover in reality as with the fantastical notion of inviting Santa to the seder, as one song suggested.
This is the flip-side of having a religion that welcomes dissent, that maintains a degree of tradition through even those born into it who have since mostly wiggled loose. When you invite open discourse on something we're pressured into, it can turn into a bit of a kvetch-fest. Is that cathartic? Sure. But does tradition forever become obligation as a result?
Numbers about topics other than the seder included a number about Inky, the octopus that escaped from an aquarium, and what that says about freedom, (according to Ian Riggs). There was also the weirdly fun comedy metal song about the eleventh plague, a Godzilla-like creature known as the Hava Nagila monster that post-rampage, helpfully returns a lost Jew to his tribe (shout out to performer Corn Mo for fully committing to that particular concept).
Can a Jewish-written song about a religious holiday be so funny, and a bit irreverent, while still being loving at its core? Sure, but we're way too emotionally scarred for it to be that easy. Still, the evening on a whole balanced out to a complicated, funny, sad, slightly frustrated look at the most matza-ful time of the year.
Next year in Jerusalem, or at least back at Joe's Pub.
Image courtesy of Greta Gertler Gold
See also: Have Yourself a Merry Little Sondheimas