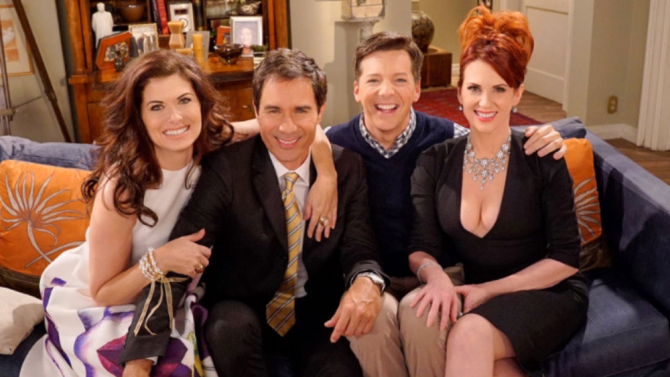 In case you needed another reason to stick out your chin and pull through 2017, here's a doozy, that is, if you watched sitcoms from 1998-2006 and enjoyed the antics of four New York friends, two of whom are gay men, one of whom is a Jewish woman, and the fourth of which is Megan Mullally.
Yes, the rumors are true. Will & Grace is coming back to TV. Rumors have been circulating ever since the core cast reunited for an election special, but now NBC has confirmed that the original creative team (including Max Mutchnick and David Kohan, because of course the show was created by Jews) will bring us ten new episodes.
"We're thrilled that one of the smartest, funniest, and most defining comedies in NBC history is coming back," said NBC Entertainment chairman Robert Greenblatt said, according to Variety. "This groundbreaking series for everything from gay rights to social and political commentary — all disguised as a high-speed train of witty pop culture — is coming back where it belongs."
And the timing couldn't be better (well, aside from the fact that Debbie Reynolds, who played the show's stereotypical Jewish mother, died while talks were still in progress for the revival). Still, despite it being a great sitcom, some of the social politic and approach to LGBT issues— after all, it's almost exclusively the G, sometimes the L, occasionally the B (usually for a joke) and almost no T, other than some admittedly transphobic jokes. The ten new episodes are really going to have to step up and update the show— and that doesn't mean adding jokes about Grindr.
And yet, since America seems to be back-stepping these days, maybe we've gotten less far away from this show as we would like. For Americans who aren't willing to watch Transparent, maybe it's important to have a somewhat more comfort zone-oriented queer-Jewish TV show to watch.
In any case, it's nice to have a show that knows what to do with Debra Messing. Welcome back to TV, Grace Adler. We look forward to hearing your Jewish references and musical theatre references real soon.
Image from Twitter, via Variety.