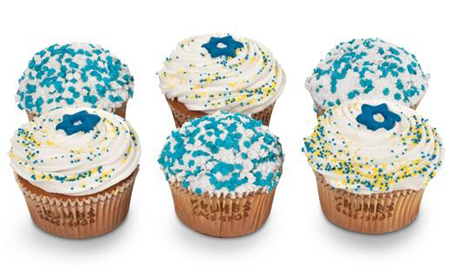 Hungry for Hanukkah pastries? Aren't we all. Too busy to find places around New York City that will satisfy your craving? Consider this an early Hanukkah present.
1. For the Fancy Side of the Family: Eleni's Playfully Unique Cookies
Sip tea and nibble on elegant nosh with your relatives on Upper East Side relatives at this nut-free bakery.
2. For You, the Cupcake Lover: Two options, of course.
Simple and delectable Magnolia cupcakes will make you croon "All I want for Hannukah is you." Enjoy these chocolate and vanilla cupcakes with vanilla buttercream frosting and delicate little Jewish stars and Menorahs on top.
The Holiday Signature Collection includes two types of cupcakes: the scrumptious Stars of David (vanilla cake filled with chocolate cream cheese frosting topped with vanilla cream cheese frosting) and mouthwatering Mazel (vanilla cake filled and frosted with vanilla buttercream sprinkled with blue and yellow nonpareils)
3. For your Gluten-Free Homegirl: Babycakes NYC (kosher, vegan, and gluten-free)
They're selling special-edition rugelach and jam donuts for the holiday season.
Despite their seemingly limitless ingredient restrictions, we hear this place is quite good.
4. For the Jelly Donut Enthusiast: Susan Sez
Susan sez "say it with cake" has a new answer to Israeli sufganiyot. Owner Susan Berlin says her jelly-filled cupcakes "taste amazing" and are healthier than traditional fried donuts.
5. For the Dessert Builder: Baked By Melissa
Unfortunately, Baked by Melissa does not carry any Hannukah-specific treats. What they do feature, however, is a pretty extensive blueprint for how to build a dreidel out of several different signature flavors.
All you need is 100 cupcakes to create this picture—no big deal.
Happy snacking!