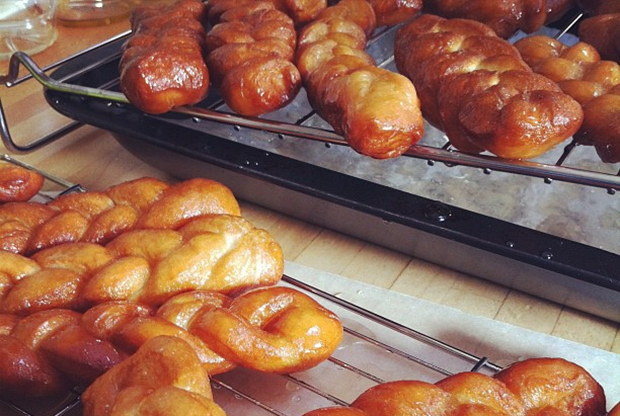 Editor's Note: This piece was originally published with a secret family recipe that the author regrets sharing. We have replaced it with a similar one from Food.com. For the author's version, you'll have to join his family for Chanukah.
If you hear the phrase, "koeksisters for Chanukah," you're probably thinking one of two things: Either it's "What the heck is a koeksister?," or, it's "Koeksisters aren't a Chanukah food!"
In regards to the former, a koeksister (pronounced cook-sister) is a delicious baked good of South African origin. In regards to the latter, they totally can be. South Africa is the home to a large Jewish community, and what says Chanukah more than a fried treat? As Elissa Goldstein wrote for Tablet in 2014:
The idea originated with… South African-born geneticist Adele Schneider, who was looking for something fun for her three kids to do on the holiday that wasn't centered around giving gifts, which isn't a Hanukkah tradition in most Jewish communities outside the U.S. So about 20 years ago the koeksister-making tradition was born.
Goldstein also described the finished product as "a sublime cookie: warm, soft, and buttery on on the inside; crisp and sweet on the outside." If you're drooling, you're in luck; you can make them yourself:
Ingredients:
Syrup:
1 cup water
2.5 cups sugar
2.5 Tbsp. lemon juice
1 Tsp. vanilla extract
Dough:
1.5 cups flour
4.5 Tsp. Baking powder
¼ Tsp. salt
1.5 Tbsp. Butter
1 egg, lightly beaten
5/8 cup milk (or vanilla-flavored soy milk)
3 cups Vegetable oil for frying
Instructions:
Boil water and sugar together in a pot, stirring until sugar is completely dissolved. Boil for 7 more minutes.
Remove the pot from heat and add lemon juice and vanilla extract. Move pot to the fridge.
Mix the flour, salt, and baking powder in a bowl. Rub in butter, and add milk.
Roll the dough out to a thickness of roughly a quarter inch. Cut the dough into thin (roughly 1/2 inch) strips. Braid them just like you would a challah!
Remove the syrup from the fridge.
Heat the oil in a pot until fairly hot. Put about 3 koeksisters (or what can fit) at a time in the oil and fry them on both sides until they get a golden-brown color. As you remove the koeksisters for the oil, place them directly into the syrup from the fridge. It is important to keep the syrup cool, so between soakings, return the syrup to the fridge to maintain its coolness.
Wait for the excess syrup to drip off and the koeksisters to cool.
---
And there you have it! Go forth and enjoy a new Chanukah treat, so you can finally stop debating latkes vs. jelly doughnuts.
Image via Tablet, originally from Flickr