How TheOutNet Shattered The Hopes and Dreams of Our Nation's J.A.P's
Come on J.A.P's, you've heard of TheOutNet. Famous for their "flash sales" and for being the fraternal twin sister to shopping site, Net-a-Porter, big spenders head to the site to play a high stakes game of emotional chicken. Here's how … Read More
By Carrie Goldberg / April 16, 2010
Come on J.A.P's, you've heard of TheOutNet. Famous for their "flash sales" and for being the fraternal twin sister to shopping site, Net-a-Porter, big spenders head to the site to play a high stakes game of emotional chicken. Here's how it works: You see an item, fall in love with it, show up to the site at the time and date of said flash sale and watch as it's four-digit price tag drops in value by the second. Sound too good to be true? Well it is. Fact is, there is only one of said dream item and it is your job to add it to your cart and pay for it before anyone else. How low can the price go before someone snags it? When is the right time to splurge? Can you really afford a YSL necklace, a Vera Wang top or a Chloe bag even once it's dropped $300.00 in price? We don't know the answer to any of these questions, and neither do you – so you try it out, get some closure and find yourself $800.00 deep in your cubicle praying that today is pay day. A likely story.
About a month ago, aforementioned JAPpy readers of The Gloss and Refinery29 read the announcement of the sale that would change their lives forever. Their daddies, whose credit card they used to become $800.00 deep on their previous splurges, would even approve of this one. TheOutNet planned to celebrate its first birthday by selling designer duds on the site for a whopping $1.00 – you heard it, one dollar.
This too was too good to be true as the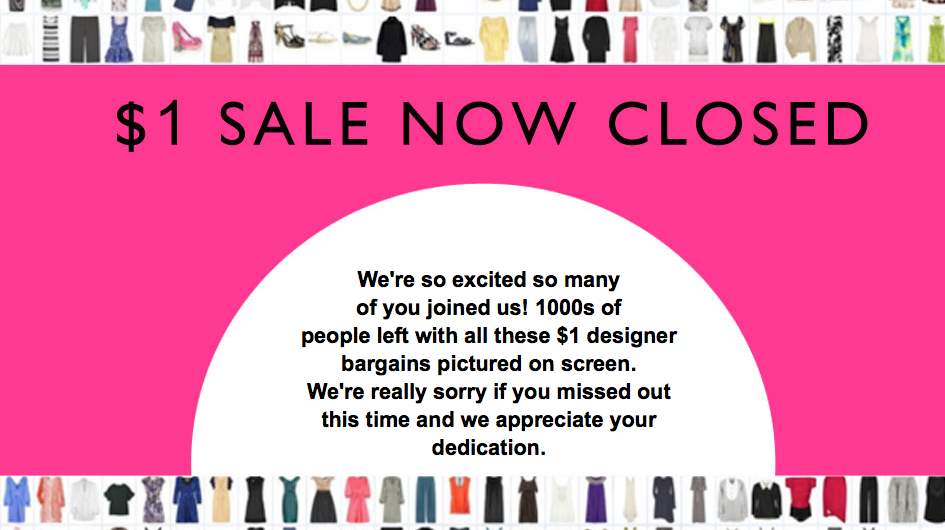 sale neglected to mention what time zone it would start in. As we, JAPs across New York, logged on this morning – fashion mavens prepared to buy something to make their co-workers jealous, tweens looking for the next big Bat-Mitzvah party ensemble, Hassidic women looking for items to take to a dressmaker and add sleeves and skirt length to – we found out that it began at midnight, regardless of where you lived and when your midnight occured. By the time JAPs across the tri-state area got themselves to their Macbooks this morning, the sale was closed and forums across the Internet were filled with Brits and Frenchies who had scored themselves items like McQueen dresses (R.I.P), Chloe handbags and Pringle trenchcoats for a single pound or euro.
Thanks a lot OutNet, because of you tears were shed and subseqent retail therapy commenced as JAPs across Manhattan flooded Barney's, Bergdorf's and Bloomingdale's for what will ultimately lead them to evermore buyer's remorse and their father's to everlasting Chapter 11 Bankruptcy. We're hoping that OutNet, still young and learning from their mistakes at the ripe ol' age of one will take a lesson from the disappointment they have caused in the United States and the sheer bliss they have initiated in Europe. We propose they make a second birthday sale, or better yet, a 1.5 birthday sale and make it an event solely for their loyal U.S. based shoppers. If not, us JAPs will just have to find another place to get their fix – Century 21, here we come!