The Jewish Mother's Guide to Style: Jo Nayor
Considering that I have been open and honest with you all up until now, I feel like this time around, as I ring in my third week of The Jewish Mother's Guide to Style, it should be no different. So … Read More
By Carrie Goldberg / June 11, 2010
Considering that I have been open and honest with you all up until now, I feel like this time around, as I ring in my third week of The Jewish Mother's Guide to Style, it should be no different. So – here goes… I, Carrie Goldberg, am not a Jewish Mother. I am a Jew, but am certainly not a mother, so I find it incredibly refreshing when on my hunt for people and products that personify the mission of this column – style, it comes in the form of a more maternal talent. Considering that I admittedly chose the name for this column to infuse a bit of snark and sarcasm into what my office-mates mock as my "column about cute pants," I am happy to present my the first luxury brand to make the Guide to Style cut, Jo Nayor.
Meet Jamie Nayor, an amazingly talented fine jewelry designer and retailer who is, you guessed it, a stylish Jewish mom to two adorable little ones. Jamie can typically be found cruising the Upper West Side in the stylish version of a Manhattan mommy uniform (i.e. perfect fitting skinny jeans and a fine cotton tee) decked in perfectly layered accessories. The one thing that separates this mom from the rest? Each one of her layered pieces is made of real gold, rare diamonds and precious stones. Despite her laid-back lack of snobbery typically stereotyped as a prerequisite for the uptown mother, costume pieces seem not to be in Mrs. Nayor's vernacular. Without even trying, Jo Nayor has started trends in her home that later become staples to those as style conscious as Carrie Bradshaw. I kid you not, Jamie's  crescent moon necklace was a part of her collection long before an item of its ilk popped up in many scenes from Sex and The City 2.
Jamie thinks of women from all walks of life when designing her pieces by creating a wide-ranged collection to suit women of all ages. Her multi-purpose rings and pendants for busy moms rotate within their frames to create a piece that brings elegance to the term "two for the price of one." And with rings designed with the same technology, Jamie gives moms on-the-go quick and easy solutions to infuse style into their jeans and tees. When she is not crafting her signature pendants, Jamie is hand-wrapping her more delicate diamond and precious stone pieces seen on the likes of New York celebrities. My personal favorite? An amazing heather gray diamond necklace that brings the perfect amount of glitter to both day and eveningwear. I actually daydream about being given a huge summer bonus at work to be able to own this piece – fingers crossed!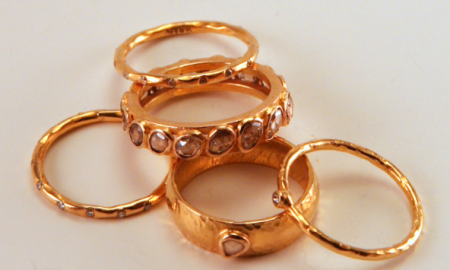 Jamie also has her eye on those not eager to purchase fine jewels in the recession; she has recently added a line of diamond cut bead necklaces to her collection that give women sparkle on a budget. Whether you are looking to self-indulge or shopping for a gift, Jo Nayor should definitely make it on to your shopping list. Make an appointment with Jamie to see her collection in full or order from her newly launched website – its almost impossible to narrow down your favorites when she throws diamonds set in hammered gold bangles and rings and raw diamond stackables into the mix. Can you say, eye candy?!