McStarbucks: McDonald's Makes a Coffee Run
In a move that's sure to make the heads of anti-Starbucks and anti-McDonald's types alike explode, Mickey D's is adding Starbucks-inspired, specialty coffee bars to their American shops–all 14,000 of them. They're calling them "McCafés" and training "baristas" to whip … Read More
By Null / January 7, 2008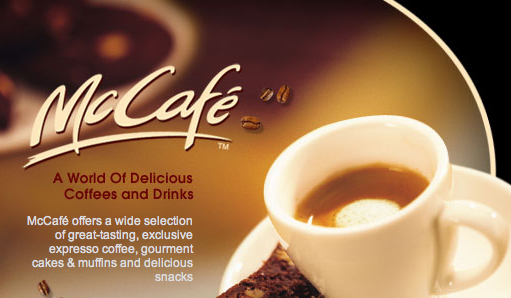 In a move that's sure to make the heads of anti-Starbucks and anti-McDonald's types alike explode, Mickey D's is adding Starbucks-inspired, specialty coffee bars to their American shops–all 14,000 of them. They're calling them "McCafés" and training "baristas" to whip up cappuccinos, lattes, mochas, and Frappes right before their customers' eyes. It's McDonald's biggest menu addition since the fast food giant added breakfast 30 years ago.
The confrontation between Starbucks Corp. and McDonald's Corp. once seemed improbable. Hailing from very different corners of the restaurant world, the two chains have gradually encroached on each other's turf. McDonald's upgraded its drip coffee and its interiors, while Starbucks added drive-through windows and hot breakfast sandwiches.

The growing overlap between the chains shows how convenience has become the dominant force shaping the food-service industry. Consumers who are unwilling to cross the street to get coffee or make a left turn to grab lunch have pushed all food purveyors to adapt the strategies of fast-food chains.
So it comes to this? Crossing the street and making a left turn is so strenuous for the average McAmerican, that they choose their nourishment according to what's on the same side of the street? Pity.
Interestingly, the McCafé concept started in Australia about fifteen years ago.
McDonald's move into upscale coffees dates back to a concept that is unfamiliar to most of its customers: the McCafé. It started in Australia in 1993. McDonald's brought the cafes to the U.S. in 2001 by carving out a corner of the restaurant, decorating it with leather couches and adding a counter that sold cappuccinos and sweets. But the cafes never took off here because they didn't feed into McDonald's drive-through business, where two-thirds of sales take place, says Don Thompson, president of the chain's U.S. business.

In 2003, McDonald's initiated a turnaround strategy called Plan to Win. Among other things, it included a total remodeling at thousands of U.S. locations. Molded plastic booths were replaced with oversized chairs, lighting was softened and muted tones took the place of bright colors. Wireless Internet access was also added.

"We began to realize…we could definitely sell coffee in this environment," Mr. Thompson said. In 2006, McDonald's changed its drip coffee to a stronger blend and began marketing it as a "premium" roast.
Despite all that, some analysts are saying that McDonald's may pose more of a threat to Dunkin' Donuts, which has a much more similar customer base, than to Starbucks. McCafé drinks, which come in three sizes (small, medium, large) and three flavors (vanilla, caramel, mocha) will sell for about 60 cents to 80 cents less than competitors' prices.