Must Have: Onili's Phat Trax
Rising music sensation and Israeli-born artist Onili has come a long way since her days as a teenager recording songs on a four-track. With her combined singing, writing, DJ-ing, producing, promoting, and performing talents, Onili is now a classifiable "artist … Read More
By JessM / August 8, 2008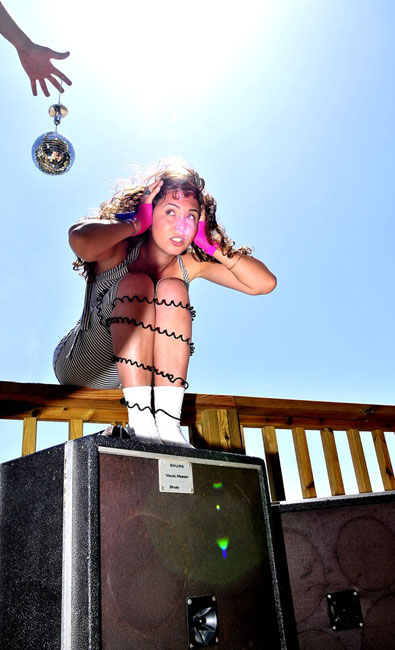 Rising music sensation and Israeli-born artist Onili has come a long way since her days as a teenager recording songs on a four-track. With her combined singing, writing, DJ-ing, producing, promoting, and performing talents, Onili is now a classifiable "artist of the next era." At least that's what it says on her press release.
Onili blends funk, hip hop, and rock with a touch of electronic. When I asked where this style comes from, Onili explained that it's all "intuition and sound digging. I like breaking frames – working on my computer and destroying sounds."
This intuition and experimentation is evident in her Games EP, which is currently being sold in Israel and online. The EP was released earlier this year in anticipation of her first full-length album, appropriately titled First Kiss, which Onili assures us will be out soon. She says, "The Album is already mastered and all the graphics are just waiting to be printed. I'm looking for a label who will release it in Europe, the US, and all over the world."
She's on the verge of releasing Games abroad, is working on new remixes of her singles "Sentimental" and "First Kiss", and her live show is ready and waiting to be exported.
Born in Israel and raised in Paris, Onili studied in the Israeli School of Paris. She starting writing and composing songs at age 14, and left Paris for Israel in September, 2004. The talented songstress started her journey to international fame after festival organizers discovered her MySpace page. She was invited to play at Transmuciales de Rennes and Bam Festival in Barcelona, and had the opportunity to open for Lily Allen at the Cellcom Festival in Paris.
When asked what she's up to at the moment, Onili mentions "The Secret Project," some work with Soulico, and coyly adds, "some surprises I can't tell right now." In the meantime, we can all look forward to the release of her debut album. Of First Kiss, Onili promises, "People can expect a fun album of groovy Eeectro with a hip hop and rock touch. Jonathan Levy's (from IZABO) touch is very present in the sound of the guitars and the big basslines."
Pick up a copy of the Games EP, find Onili streaming her tunes all over the Internet, and (legally) download her single "Sentimental" for free right here. One warning: You had better be ready to groove.